Anti-Slip Bathroom Products
Our anti-slip bathroom aids are an aqua safe material, designed for use in wet areas, and if needed, barefoot applications. These anti-slip strips and discs are not just confined to the bathroom, you can use them in any area which is exposed to water regularly.
Suitable for application on bath and shower bases, our aids will provide extra support for the elderly and disabled when bathing.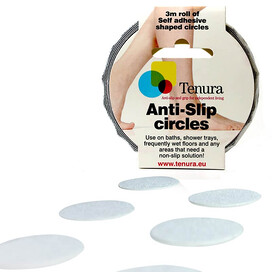 Non abrasive aqua safe, anti-slip bath and shower stickers to prevent slipping in wet areas.