A new analysis conducted by the IAC (Independent Age Charity) and SSC (Strategic Society centre) has indicated that of the 2 million elderly people in England have difficulties with everyday tasks such as bathing, cooking and eating.
This is a major problem as these simple tasks are a necessity for many people. Many of Tenura's products exist to tackle these exact problems. We created our cutlery grips and non abrasive anti slip bathroom stickers with these problems in mind, to help elderly, disabled or average people with everyday tasks making some tasks, which become harder with age less strenuous and stressful.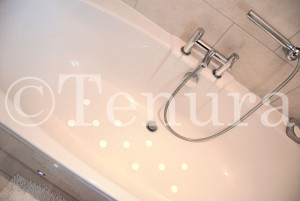 Slips and falls in a bath tub are a nightmare for any age group, but for those who are elderly and live on their own, it can be a real problem. Other solutions like bath mats can cause more problems than they solve, the mat can coil or lift, creating a lip that you could trip on, and this puts you in a position where a fall is a big possibility. Tenura thought about this problem for a long time, and decided that the best form of slip prevention in a bath or shower was one which would be stuck down permanently, with minimal raised edges, and could be cleaned easily. That way you don't have the worry of the material becoming a trip hazard, and the issue of having to remove a mat every now and again to clean it, which can be a tedious task. This material is perfect for bare skin applications, as it is non-abrasive, meaning it will not damage bare skin, and will be comfortable underfoot.
Eating and cooking can be a real problem when you get older, as tasks which used to be simple can become a lot harder, such as opening jars and bottles. Even young and able-bodied people struggle to open jars and bottles. The pressure can sometimes be very high, so the lid or bottle cap is very tight. This makes opening the jar/bottle much harder, especially if you suffer from hand impairments such as arthritis or Parkinson's disease.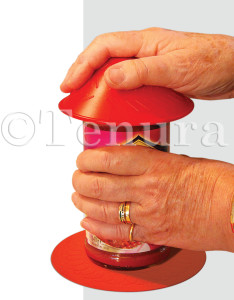 This can be a big problem when this happens a large proportion of the time, as people cannot physically open something they may need to eat or drink. We understand the severity of this problem, and that's why we created our grip enhancing bottle and jar openers, as they allow a better grip on the lids of jars and bottle tops, without having to exert too much force with your hands.
The elderly and people with hand impairments can find day to day tasks very difficult, and without the proper care or tools, they will continue to struggle. Tenura products offer a simple and cost effective solution to some of these problems, and we hope that they can help as much as possible,(source http://­www.­bbc.­co.­uk/­news/­health-30209059).