chunky pencil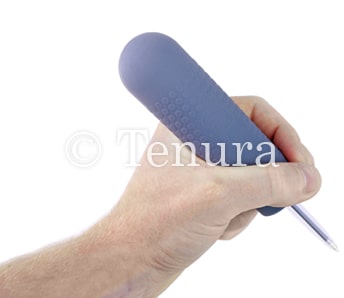 Not everyone finds writing easy and comfortable, so you may be looking at the pros and cons of cutlery grips vs thicker pencils.
As children grow up, developing their fine motor skills plays a big role, from learning to walk to learning to write, and as the ones who care for them, we inevitably want the best for their development. These skills often deplete over time, with conditions such as arthritis or strokes impacting the body. But some products can help…
What are Cutlery Grips?
Tenura adaptive grips provide an extra layer of comfort to your writing thanks to their soft silicone construction - this material is also grip-enhancing.
Whether you struggle grasping pencils due to a lack of grip strength or looking for an easy, reusable way to improve your writing, Tenura's specially designed adaptive cutlery grips are versatile for all your gripping needs.
There are two sizes of cutlery grips available from Tenura. Children's cutlery grips - perfect for smaller items that are tricky to hold or difficult for smaller hands. Adult cutlery grips - suitable for anything from cutlery to hairbrushes, giving plenty of variety for these grips to be applied within your day-to-day life.
Tenura Cutlery Grip Pros
Comfortable
Cushioned grip, soft on the fingers
Larger surface to grip
Can be reused on hairbrushes, razors and toothbrushes
Less strain on weak wrists
100% silicone
No cost-saving chemicals & non-toxic
Dishwasher safe
Available in two sizes (children's & adults)
What are Thicker Pencils?
Thicker pencils are wider pencils to help those struggling to grasp thin objects and handles. To hold pencils requires dexterity and fine motor skills, which you may find tricky as a child or an older person, and this is where thicker pencils come in handy. They do, however, have some pros and cons.
Chunky pencil pros
Boosts muscle development
Less pain and stress on the hands (thinner pencils can be painful/­uncomfortable)
Easier to grasp than normal pencils
Chunky pencil cons
Limited to the set of thick pencils you buy
Need a special pencil sharpener
Our final thoughts…
The soft silicone of Tenura adaptive cutlery grips lessens any discomfort and allows you to figure out the best way to hold your pencil/pen. Both cutlery grips and chunky pencils offer an easily accessible way to help with writing. Often used for those learning to write, they're a good first step into building grip.
Why not explore more about Tenura cutlery grips via the website and get yours today?
Posted in
Arthritis Aids
,
Daily Living Aids
and tagged
tenura
,
chunky pencil
,
tenura grips
,
physical functions
,
Fine motor skills
,
pencil grips
,
cushioned grip
,
cutlery grips
,
adaptive cutlery grips
,
help with writing
,
learning to write
on .