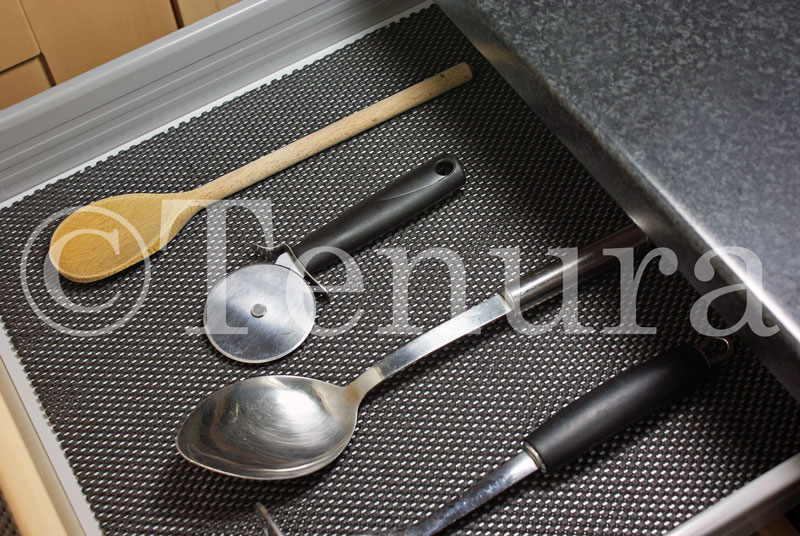 Are you looking for a soft anti-slip material?
Tenura has created a non-slip fabric designed to be just that, as it is soft, anti-slip and has the added benefit of being waterproof too. Tenura non-slip fabric is excellent when used as a cushioned material to place items on. It can protect the surface as well as the object placed in it. Due to its soft and flexible design, it can be used all around the home.
Tenura non-slip fabric comes in rolls of black, beige or white, which can be cut to size easily to suit the various places around your home or office. Many of our customers have used Tenura non-slip fabric to use as a draw or shelf liner, a non-slip base for a vase or other delicate, expensive ornaments. It helps to keep your belongings safe when you may experience unwanted movement. Such as when you are travelling with a motorhome and you need to keep your crockery intact for the journey.
A great technique to help your crockery arrive safely is by making makeshift placemats. Another great use of Tenura non-slip fabric is as a car drape for a mechanic. The possibilities are virtually endless.
As mentioned, Tenura non-slip fabric is also waterproof, so it can be used on boats as a non-slip surface near water.
Tenura non-slip fabric is machine washable, so if it becomes dirty, it can be cleaned in the washing machine and will come out as good as new.
Tenura non-slip fabric rolls are available in sizes of 50.8cm x 182cm and are available to buy from the Tenura website.