straws
As sustainability becomes an increasingly vital consideration, the demand for reusable straws has grown significantly. In this blog post, we will discuss reusable straws and explore the best options to pair with the Tenura CupCap our drinking aid. The CupCap, a versatile and reliable spill-proof lid, can greatly benefit from the right straw choice. So, let's dive in and discover which reusable straw will enhance your Tenura CupCap experience.

Stainless Steel Straws:
Stainless steel straws are a top choice for many eco-conscious individuals. They offer durability, ease of cleaning, and can withstand both hot and cold beverages. With the Tenura CupCap, a stainless steel straw complements its robust design, ensuring a reliable sipping experience every time. The sleek and modern appearance of stainless steel straws adds a touch of elegance to your drink. Additionally, stainless steel straws come in various sizes and shapes, such as straight or curved, allowing you to customise your sipping experience further.
Silicone Straws:
Silicone straws are an excellent option if you prioritise flexibility and safety. Their soft and flexible nature makes them ideal for use with the Tenura CupCap, as they can easily manoeuvre around the lid's openings. Silicone straws are also suitable for both hot and cold beverages, ensuring versatility. The Tenura CupCap's spill-proof design combined with a silicone straw offers a reliable and mess-free drinking experience. Regularly cleaning and sterilising silicone straws will help maintain their hygiene and extend their lifespan.
Glass Straws:
If you prefer an aesthetic and visually appealing option, glass straws might be the perfect fit for your Tenura CupCap. Glass straws offer a clear view of your drink, making your sipping experience visually pleasing. The transparency of glass straws allows you to see if they are completely clean and free from residue. With their non-toxic properties and ease of cleaning, glass straws provide a safe and eco-friendly alternative. Additionally, some glass straws come with decorative elements or artistic designs, adding a touch of sophistication to your drink.
Bamboo Straws:
For those seeking an organic and biodegradable option, bamboo straws are worth considering. Bamboo straws align perfectly with the sustainability ethos, offering a natural and eco-friendly choice. With their lightweight design, they complement the portable nature of the Tenura CupCap, making them convenient for on the go use. Bamboo straws also add a rustic and earthy charm to your drink. However, keep in mind that bamboo straws may absorb flavours over time and may require more frequent replacement compared to other types. Proper care and regular drying can help prolong the lifespan of bamboo straws.
When it comes to choosing the best straw to pair with your Tenura CupCap, silicone straws emerge as the superior option. The main reason for this being that silicone is anti-microbial, meaning bacteria doesn't harbour onto the surface unlike other straw options. Offering unmatched flexibility and safety, silicone straws effortlessly navigate the lid's openings, ensuring a spill-proof and hassle-free drinking experience. They are suitable for both hot and cold beverages, providing versatility in use. While other options like stainless steel, glass, and bamboo straws have their merits, silicone straws excel in terms of functionality and ease of use with the Tenura CupCap drinking aid. By selecting silicone straws, you can enhance your drinking experience while actively reducing single-use plastic waste. Choose sustainability and enjoy your favorite beverages with the Tenura CupCap and silicone straws, making a positive impact on the environment, one sip at a time.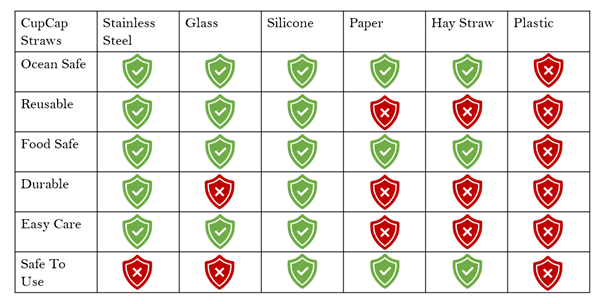 As you can see in the table, only the silicone straw is fully suitable.