silicone
Opening a stubborn jar can be a daily frustration for many, turning a simple task into an ordeal, especially for those who rely on disability aids. Whether it's a jar of pickles, pasta sauce, or any tightly sealed container, the struggle to gain access is real. Fortunately, there are various types of jar openers on the market designed to alleviate this common annoyance. In this article, we'll delve into the different types of disability aids, particularly jar openers, and shine a spotlight on Tenura's silicone jar openers as the ultimate solution.
Types of Jar Openers:
Manual Jar Openers
Manual jar openers are the traditional go-to for many who use disability aids. They usually consist of a handheld device with adjustable teeth that grip the lid. While these openers can be effective, they require a fair amount of physical effort, which can pose a challenge for those with limited hand strength or dexterity, making disability aids like Tenura's jar openers a preferable choice.
Electric Jar Openers
Electric jar openers represent a significant leap in automation and are highly regarded as disability aids. These devices automatically twist the lid open with the push of a button. While they are convenient, they tend to be bulky and can be costly, making Tenura's silicone jar openers an accessible alternative.
Grip Mats
Grip mats are non-slip pads that can be placed under a jar to prevent it from moving while you twist the lid. While they can be effective for smaller jars, they may not provide sufficient leverage for stubborn or larger lids, making Tenura's jar openers, designed as disability aids, a more comprehensive solution.
Silicone Jar Openers by Tenura - A Versatile Disability Aid:
Now, let's focus on Tenura's silicone jar openers, a game-changer in the world of kitchen disability aids. These openers are not just another gadget; they are a testament to simplicity, effectiveness, and accessibility for those who rely on disability aids.
Tenura's silicone jar openers are crafted from high-quality, food-grade silicone. What sets them apart is their remarkable non-slip properties. The silicone material grips tightly to both the jar lid and your hand, providing the necessary traction to effortlessly twist the lid open. This feature is particularly advantageous for those with limited hand strength due to aging, arthritis, or other disabilities, making Tenura's jar openers a reliable choice among disability aids.
Versatile Applications Beyond Jars:
Tenura's silicone jar openers, renowned for their effectiveness in opening stubborn jar lids, offer versatile applications throughout daily life. These non-slip wonders can enhance independence by providing a secure grip on various surfaces. Use them on taps and faucets, making water control easier; wrap them around door knobs for improved accessibility; open medication bottles with ease; loosen tight caps on household items; secure cookware and utensil handles; and even enhance grip on exercise equipment during therapy or workouts. Tenura's silicone jar openers are more than just kitchen aids; they're versatile companions for conquering daily challenges and promoting self-reliance in various aspects of life.
Independence for the Elderly and Disabled Individuals:
Maintaining an independent lifestyle is a cherished goal, especially as we age or face mobility challenges due to disabilities. Simple tasks like opening a jar can become major obstacles. Tenura's silicone jar openers empower the elderly and disabled individuals to conquer these challenges and continue enjoying the autonomy they desire. With the non-slip grip, they can confidently open jars without assistance, preserving their self-reliance and dignity through the use of disability aids.
A Boon for Arthritis Sufferers and Occupational Therapists:
Arthritis can make everyday tasks painful and frustrating. The grip and twist required to open jars can exacerbate joint pain. Tenura's silicone jar openers offer a gentle yet secure grip, reducing the strain on arthritic hands. They are a welcome relief for individuals battling this condition or those undergoing occupational therapy, making it easier to access essential foods and maintain a balanced diet, thanks to these disability aids.
What is the Best Jar Opener for Seniors and Disabled Individuals?
Tenura's silicone jar openers have earned acclaim as the best disability aids for seniors and disabled individuals. Their non-slip grip and user-friendly design make them an ideal choice for those with limited hand strength, dexterity, or mobility issues. These openers provide a newfound sense of independence and convenience, allowing seniors to maintain their autonomy and making daily tasks much easier for disabled individuals who rely on disability aids.
In conclusion, the frustration of wrestling with a stubborn jar lid is a universal experience, especially for those who need disability aids. However, it doesn't have to be a daily annoyance. Tenura's silicone jar openers offer a simple, affordable, and effective solution as disability aids. They benefit the elderly and disabled individuals by promoting independence, providing relief for arthritis sufferers, and serving as a valuable resource for occupational therapists. With Tenura, the lid to convenience is always within reach, making these jar openers an essential part of disability aids. Say goodbye to jar-opening woes and hello to hassle-free access to your favourite treats.
As sustainability becomes an increasingly vital consideration, the demand for reusable straws has grown significantly. In this blog post, we will discuss reusable straws and explore the best options to pair with the Tenura CupCap our drinking aid. The CupCap, a versatile and reliable spill-proof lid, can greatly benefit from the right straw choice. So, let's dive in and discover which reusable straw will enhance your Tenura CupCap experience.

Stainless Steel Straws:
Stainless steel straws are a top choice for many eco-conscious individuals. They offer durability, ease of cleaning, and can withstand both hot and cold beverages. With the Tenura CupCap, a stainless steel straw complements its robust design, ensuring a reliable sipping experience every time. The sleek and modern appearance of stainless steel straws adds a touch of elegance to your drink. Additionally, stainless steel straws come in various sizes and shapes, such as straight or curved, allowing you to customise your sipping experience further.
Silicone Straws:
Silicone straws are an excellent option if you prioritise flexibility and safety. Their soft and flexible nature makes them ideal for use with the Tenura CupCap, as they can easily manoeuvre around the lid's openings. Silicone straws are also suitable for both hot and cold beverages, ensuring versatility. The Tenura CupCap's spill-proof design combined with a silicone straw offers a reliable and mess-free drinking experience. Regularly cleaning and sterilising silicone straws will help maintain their hygiene and extend their lifespan.
Glass Straws:
If you prefer an aesthetic and visually appealing option, glass straws might be the perfect fit for your Tenura CupCap. Glass straws offer a clear view of your drink, making your sipping experience visually pleasing. The transparency of glass straws allows you to see if they are completely clean and free from residue. With their non-toxic properties and ease of cleaning, glass straws provide a safe and eco-friendly alternative. Additionally, some glass straws come with decorative elements or artistic designs, adding a touch of sophistication to your drink.
Bamboo Straws:
For those seeking an organic and biodegradable option, bamboo straws are worth considering. Bamboo straws align perfectly with the sustainability ethos, offering a natural and eco-friendly choice. With their lightweight design, they complement the portable nature of the Tenura CupCap, making them convenient for on the go use. Bamboo straws also add a rustic and earthy charm to your drink. However, keep in mind that bamboo straws may absorb flavours over time and may require more frequent replacement compared to other types. Proper care and regular drying can help prolong the lifespan of bamboo straws.
When it comes to choosing the best straw to pair with your Tenura CupCap, silicone straws emerge as the superior option. The main reason for this being that silicone is anti-microbial, meaning bacteria doesn't harbour onto the surface unlike other straw options. Offering unmatched flexibility and safety, silicone straws effortlessly navigate the lid's openings, ensuring a spill-proof and hassle-free drinking experience. They are suitable for both hot and cold beverages, providing versatility in use. While other options like stainless steel, glass, and bamboo straws have their merits, silicone straws excel in terms of functionality and ease of use with the Tenura CupCap drinking aid. By selecting silicone straws, you can enhance your drinking experience while actively reducing single-use plastic waste. Choose sustainability and enjoy your favorite beverages with the Tenura CupCap and silicone straws, making a positive impact on the environment, one sip at a time.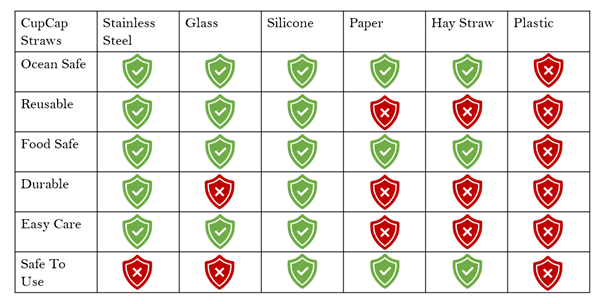 As you can see in the table, only the silicone straw is fully suitable.