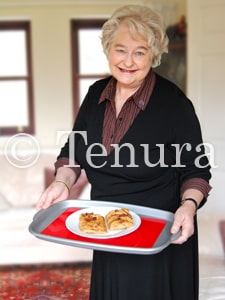 When cooking, there are constant dangers all around you. One of the most common injuries is when an object slips or suddenly moves when you could be cutting or using hot utensils and pans, which can burn you or damage the worktop. Tenura anti-slip mats can be placed on any dry, flat surface to create a non-slip, heatproof area for chopping boards, mixing bowls and hot trays and pans. A clean and dry worktop is required for the mat to have a good bond. Once placed down, Tenura mats will create a non-slip surface, which will prevent any slips or heat damage from the objects resting upon it. Tenura table mats can also be applied to a dinner tray, preventing unwanted movement and, therefore, spillages.
Tenura anti-slip mats are an excellent surface to rest a chopping board on, helping to prevent all movement from the chopping board, reducing accidents. Many chopping boards are still without a non-slip base, increasing the risk of slips and injuries. Tenura kitchen non-slip mats minimise the possibility of this happening. Anti-slip mats are also a superb surface to use when using a mixing bowl, preventing movement, which could create a mess. For those who suffer from hand impairments and joint diseases, holding onto a mixing bowl or chopping board while using them can be very difficult. If unwanted movement is possible, it can make the whole experience more dangerous. By having a Tenura non-slip mat, more control and safety is a guarantee during the task in hand.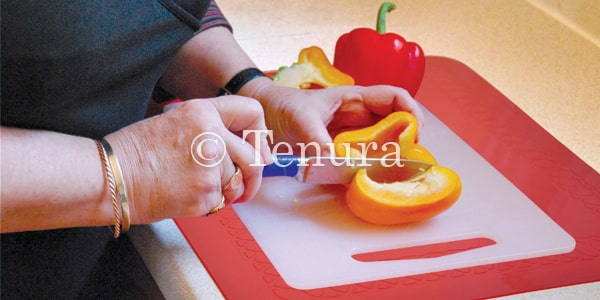 Tenura anti-slip mats can also be used in the cooking process, withstanding temperatures up to 250°C means they are perfect for resting hot bowls, pans, and plates on, with no worry of heat damage. Tenura anti-slip mats will prevent the pans, bowls, or plates from being easily knocked and spilling, preventing injury.
Tenura kitchen non-slip mats are useful in a commercial environment such as a busy café, restaurant, or kitchen. Tenura non-slip mats will provide a reliable and hygienic non-slip surface perfect for almost any task in the kitchen. Tenura's silicone products are antimicrobial, meaning that no dirt or bacteria can grow or harbor on them, ensuring a clean surface that is also easy to clean if dirt is present. Tenura understands the high levels of hygiene required in commercial kitchens, which is why Tenura mats are made from non-toxic silicone, meaning no chemicals can leach into any food prepared on the mat's surface!
Tenura anti-slip mats are available in sizes of 25.5cm x 18.5cm, 35.5cm x 25.5cm, and 45.5cm x 38.5cm and in the following colour options; red, blue, and yellow and are available to purchase directly from the Tenura website now.
Free shipping is available on all orders over £50.