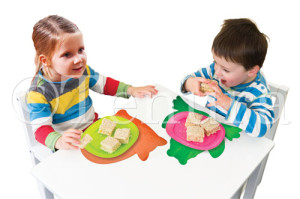 Mealtimes with the family can always be messy, and keeping the house straight is a never-ending battle! Often the case for families with small children, a mess can suddenly appear because something has been knocked over or spilt, causing a slip hazard on the floor. Tenura understands the constant work parents have to put in to keep the house neat and tidy, so we have manufactured two silicone products for children, non-slip mats and cutlery grips, both designed to reduce the risk of slips, spills and help to keep areas clean.
Anti-slip antimicrobial children's mats can create an excellent non-slip surface at home or on the go, and this material helps to reduce the risk of many spills, breakages, and a mess on the table or floor. Tenura non-slip mats can be applied to any surface with ease. By laying it down on a flat, dry surface, the silicones' natural properties will adhere to the surface, and upon removal, it will leave no residue at all. Tenura non-slip mats have been created in a fun green frog and orange cat design, to make meal and play times more fun and enjoyable for children.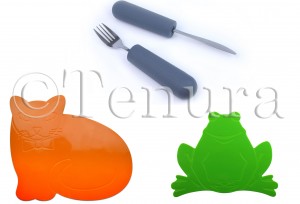 Tenura children's anti-slip mats also offer antimicrobial protection, helping to stop a wide range of bacteria from manifesting on these mats. This helps to protect your child's developing immune systems and will help to prevent any build-up of bacteria or dirt. Tenura anti-slip mats are also easy to wash. With soap and hot water, you can be sure that this material is so clean, you could eat your dinner off it. Once dry again, Tenura non-slip mats will provide the same level of slip prevention. We think this material is a cost-effective solution to typical dinner mats, which while providing some protection from spills, generally offer little to non-slip protection. Tenura silicone is proven to help provide an anti-slip surface that reduces the risk of accidents.
These tasks can be even more tiring for those parents or guardians who suffer from physical impairments due to injury or such diseases as Parkinson's and Arthritis, which can make the smallest tasks become an uphill struggle. Tenura's range of daily living aids such as anti-slip mats and cutlery grips can make these small tasks easier at mealtimes and hopefully leave you feeling less tired and more capable of dealing with daily tasks.
Children's cutlery grips are another great addition to mealtimes for little ones who struggle to grip or use cutlery. Tenura cutlery grips slip over cutlery handles neatly, creating a larger surface area, which is more comfortable to hold. Tenura cutlery grips are constructed from our silicone, just like Tenura mats. Cutlery grips, therefore, boast the same valuable features; both are non-toxic and antimicrobial, which is essential for any object that is in close contact with food and your child. It is worth mentioning how easy Tenura children's cutlery grips and mats are to clean. They are dishwasher safe, but hot, soapy water will do the job.
Tenura children's anti-slip mats are available in a green frog or orange cat design, and will provide a durable non-slip surface, perfect for mealtimes!
You can buy Tenura children's mats and children's cutlery grips direct from the website.