children's cutlery grips
Tenura creates and manufactures helpful assistive devices for children to make life a little simpler. Tenura's ergonomically designed children's products are beneficial during play and mealtimes. The three gadgets on show in the video are Tenura children's cutlery grips, CupCaps and non-slip mats. You can use these products to promote the development of fine motor skills like handwriting.
Skills such as handwriting and properly using cutlery, may not seem necessary. However, they are the foundation to key life skills, and by using and practising with cutlery, the child's brain develops fine motor skills.
Fine motor skills are the movements we make using our smaller muscles for intricate tasks, a task in our daily lives that requires such skill is fastening the buttons on your top, tying shoelaces, writing and correctly using cutlery.
Children who do not practice fine motor skills often have low self-esteem because they are unable to complete the same tasks as their peers. So, let's make sure your child is happy and prepared for life by encouraging their development using Tenura children's products.
Explore the benefits of our Children's Range:
Children's Cutlery Grips
Children can struggle to hold items with thin handles as it requires fine motor skills and coordination. Typically, children can feed themselves by age seven, having acquired these skills through years of practice. You may not give it much thought but grasping smaller objects requires a more extensive range of movement, which is why some children struggle to hold cutlery. To help your child, slide Tenura children's cutlery grips onto handles, enlarging their surface area and making them more comfortable to hold. Some great examples include:
Toothbrushes
Paintbrushes
Pens and Pencils
Hairbrushes
Children's cutlery grips come in a pack of two and are available in three colours, red, blue and grey.
For larger hands, we have ergonomically designed adult cutlery grips.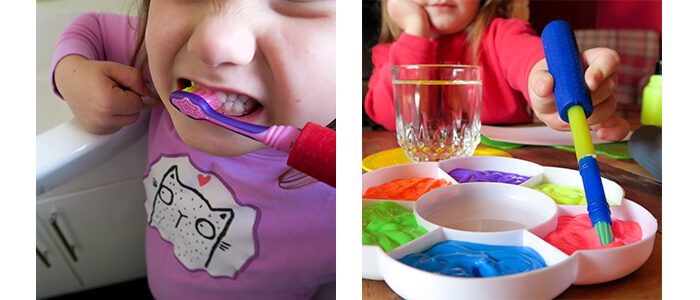 Children's Table Mats
Arts and crafts are a treasured pastime for all children, often consisting of paint, pens and glue, all of which can leave horrifying marks on your furniture. However, by using a Tenura children's mat as a barrier between the table and their art, you can protect your surfaces and keep the mess contained. Tenura mats are easy to wash/wipe down and are dishwasher safe.
The mat's silicone non-slip properties prevent spillages, as paint pots and other mess-making supplies are securely held in place by the children's mat.
There are two funky shaped children's mats available, an orange cat and a green frog.
Tenura CupCaps – Silicone Drink Lids
We are all prone to knocking over drinks, especially children, whose bodies are growing and don't have the best spatial awareness. With that in mind, CupCaps can be an ideal help. CupCaps are stretchy silicone drink lids that create a seal over the top of containers to keep the liquid inside and avoid spillages. Stretch the drinks cap over your cup, insert a straw through the eyelet and away you go, mess-free.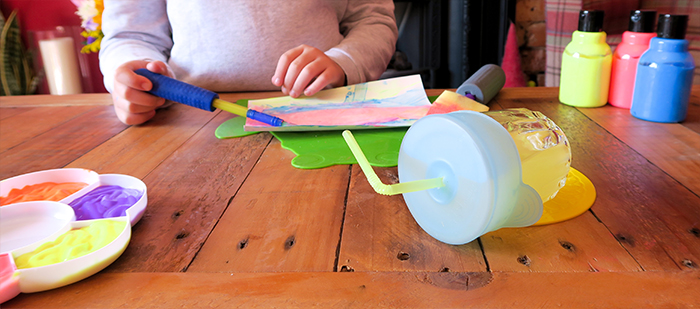 Benefits of Tenura Children's Assistive Devices
Tenura's three assistive devices for children are made from silicone, which means that have fantastic qualities, which include:
Non-Toxic

An essential feature as children tend to put things in their mouth, so the last thing you want is the object to be toxic

Antimicrobial

Bacteria can't harbour on the mat's surface. Your child has a developing immune system, so it is crucial to reduce the risk of infection/­illness

Latex-Free

Your child could be allergic to latex, and you may not be aware

Easy to hand wash and dishwasher safe

Tenura children's products can withstand temperatures up to 250°C
If you would like to contact us regarding the Tenura children's range or our other products, please fill out the contact form.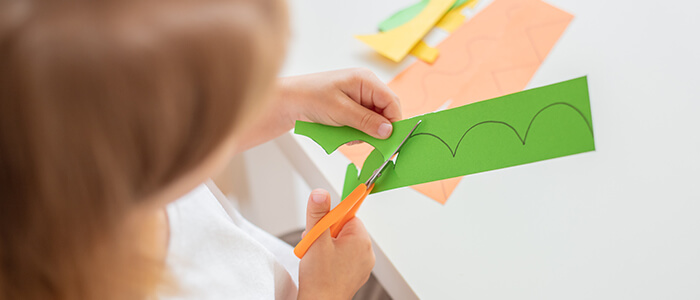 Developing Fine Motor Skills in Children
Performing actions with increased frequency positively affects how smooth, fast and accurate the motion can be completed in the future, becoming ingrained in 'muscle memory'.
As for a child learning how to write, years of practice go by to develop the skill. If you have ever tried to practice the art form, calligraphy, you will realise what it was like when first beginning writing. You have to train your hand to complete the same motion each time ensuring every letter is identical in style. You have to train your body to make those exact motions.
By repetitively completing actions, you also build up the strength in the muscles involved in that movement, especially supportive muscles required for fine motor skills. As these improvements continue, the brain takes note and sends out altered signals each time, which is, of course, why practice makes perfect.
To help develop this skill in your children, you should practice activities such as colouring/­drawing, tracing, cutting, writing, playing with playdough and using cutlery when eating.
Subscribe to the blog to get more helpful information and save 10% on your next Tenura purchase!
If you would like any further information on the products showcased in this blog and video, check out their product pages: Children's Cutlery Grips | Children's Table Mats | CupCaps
Posted in
Internet
,
Social Media
,
Tenura Updates
,
Tenura Videos
and tagged
Tenura
,
children's cutlery grips
,
children's mats
,
tenura products
,
children's table mats
,
children's assistive devices
,
CupCaps
,
drinks cap
,
silicone drinks lid
on .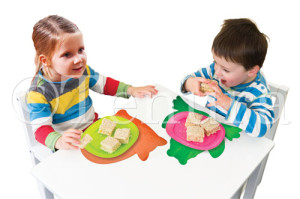 Mealtimes with the family can always be messy, and keeping the house straight is a never-ending battle! Often the case for families with small children, a mess can suddenly appear because something has been knocked over or spilt, causing a slip hazard on the floor. Tenura understands the constant work parents have to put in to keep the house neat and tidy, so we have manufactured two silicone products for children, non-slip mats and cutlery grips, both designed to reduce the risk of slips, spills and help to keep areas clean.
Anti-slip antimicrobial children's mats can create an excellent non-slip surface at home or on the go, and this material helps to reduce the risk of many spills, breakages, and a mess on the table or floor. Tenura non-slip mats can be applied to any surface with ease. By laying it down on a flat, dry surface, the silicones' natural properties will adhere to the surface, and upon removal, it will leave no residue at all. Tenura non-slip mats have been created in a fun green frog and orange cat design, to make meal and play times more fun and enjoyable for children.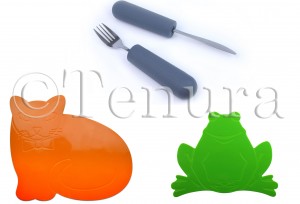 Tenura children's anti-slip mats also offer antimicrobial protection, helping to stop a wide range of bacteria from manifesting on these mats. This helps to protect your child's developing immune systems and will help to prevent any build-up of bacteria or dirt. Tenura anti-slip mats are also easy to wash. With soap and hot water, you can be sure that this material is so clean, you could eat your dinner off it. Once dry again, Tenura non-slip mats will provide the same level of slip prevention. We think this material is a cost-effective solution to typical dinner mats, which while providing some protection from spills, generally offer little to non-slip protection. Tenura silicone is proven to help provide an anti-slip surface that reduces the risk of accidents.
These tasks can be even more tiring for those parents or guardians who suffer from physical impairments due to injury or such diseases as Parkinson's and Arthritis, which can make the smallest tasks become an uphill struggle. Tenura's range of daily living aids such as anti-slip mats and cutlery grips can make these small tasks easier at mealtimes and hopefully leave you feeling less tired and more capable of dealing with daily tasks.
Children's cutlery grips are another great addition to mealtimes for little ones who struggle to grip or use cutlery. Tenura cutlery grips slip over cutlery handles neatly, creating a larger surface area, which is more comfortable to hold. Tenura cutlery grips are constructed from our silicone, just like Tenura mats. Cutlery grips, therefore, boast the same valuable features; both are non-toxic and antimicrobial, which is essential for any object that is in close contact with food and your child. It is worth mentioning how easy Tenura children's cutlery grips and mats are to clean. They are dishwasher safe, but hot, soapy water will do the job.
Tenura children's anti-slip mats are available in a green frog or orange cat design, and will provide a durable non-slip surface, perfect for mealtimes!
You can buy Tenura children's mats and children's cutlery grips direct from the website.