non-slip roll
Physi­ot­he­rapists assist and encourage the development of someone who has a disability, is injured, or requires assistance to complete activities of daily living. They do this via physio sessions, education and therapy. They support people with neurological conditions like strokes and Parkinson's, neuro­mus­cu­los­ke­letal problems such as back pain and arthritis. They also deal with a person's cardiovascular and respiratory complications.
So how can Tenura daily living aids assist the lives of Physi­ot­he­rapists and their Patients?
Grip-Enhancing Silicone Rolls for Physi­ot­he­rapists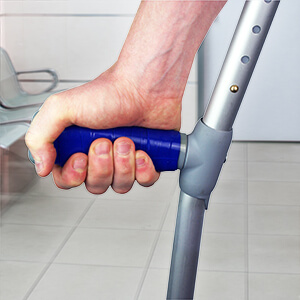 You can wrap Tenura silicone roll around grab rails at the practice. This aids with a person's mobility as the silicone roll is grip-enhancing, making it perfect for people with weak grip strength. It also provides a layer of comfort for the user to hold. Use Tenura grip roll to adapt equipment making it more accessible for your patient, such as their pre-existing mobility aids.
You can make all sorts of grip aids from Tenura silicone rolls. You cut the roll down to the desired shape and wrap it around objects, including handles
Tenura grip roll can help with equipment application by keeping splints and other apparatus in a still position during physiotherapy rehabilitation sessions.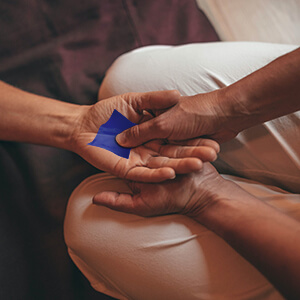 Some physi­ot­he­rapists use silicone roll for massage therapy on scar tissue. They say it softens tendons following surgery when used in conjunction with massage methods.
When positioning a patient during respiratory physiotherapy, Tenura non-slip roll can help with stabilisation. Positioning is the term used to promote optimal recovery and reduce the risk of pain and swelling.
Colour Contrast/Visual Aid Methods in Physiotherapy
When conducting forms of therapy with a partially sighted person, the contrast between objects is vital. For example, the phrase "it's black and white" means it's clear because there's a stark difference between them tonally, which helps individuals distinguish them. The majority of Tenura products come in vivid red, blue or yellow, making them excellent visual aids.
There are trip hazards everywhere you go, and in a clinic, you must reduce risks such as this. You can add strips of bright red or blue silicone roll to hazardous items, things such as door stops which are often grey and camouflage into their surroundings.
Red silicone roll works exceptionally well at highlighting danger, as it's customary to signify hazards and heat in this way. For instance, stop signs are red, and when you're running out of petrol, the gauge dips into the red. In your physiotherapy clinic, you can highlight steps, hot surfaces and other dangers effortlessly.
An example of using blue grip roll within the clinic could be to make light switches more prominent. Make table corners and other sharp edges that could cause harm to stand out by using strips of blue grip roll.
Red and blue silicone rolls come in two variants non-adhesive and adhesive-backed, the latter being a more permanent non-slip­/grip-enhancing solution. There are also pre-cut grip strips available from the Tenura website.
Non-Slip Floor Mat Uses in Physiotherapy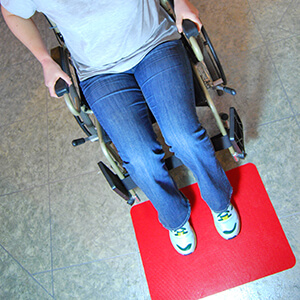 When aiding a wheelchair user in and out of a wheelchair, a non-slip floor mat can give them a foothold, stopping them from slipping. It can also provide a level of confidence to the user and make them more surefooted.
When a person is standing up from a chair, the chair can jolt backwards on slippery clinic floors. By placing a non-slip floor mat underneath, you can add a layer of safety, which is essential when evaluating the person's fall risk.
During weight-bearing procedures in your practice, where you move a person from one surface to another, Tenura non-slip mats can be a real benefit. Use non-slip mats as a preventative measure for slipping/­falling during this procedure. With both your feet and your client's feet safely positioned on a non-slip mat, the risks involved reduce as you both have a secure foothold, which would not be the case on smooth slippy clinic floors.
Non-Slip Table Mats for Self-Feeding­/Eating
Having a non-slip table mat under your patient's plate during self-feeding allows the user to exert more force, and if required, they can eat with one hand because the non-slip mat and plate remain in place. This real-world example is an executable daily exercise they can use at home or in the clinic to increase their eating competency.
Cutlery Grips for Physiotherapy Sessions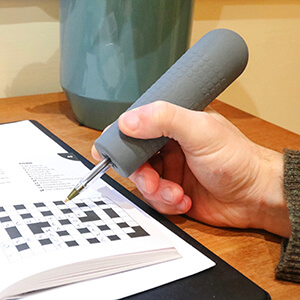 With age, dexterity decreases, so developing fine motor skills in your patient is vital. We utilise our fine motor skills in everyday life, such as buttoning up a shirt, which can be difficult, especially if the movement of your hands is limited.
Often as a physiotherapist for seniors, handwriting practice is encouraged to progress a client's fine motor skills. To make this task more accessible, you can slide a Tenura cutlery grip onto a pen, improving grip and comfort due to the handle's increased surface area and the grip-enhancing properties of the silicone cutlery grip.
Eating involves a few steps that develop fine motor skills, such as using cutlery correctly, transferring food from fork to mouth, and using a knife for cutting. Sliding Tenura cutlery grips onto a fork or knife improves the persons capacity to hold and use their utensils, adding comfort and control.
Paediatric physi­ot­he­rapists will know that children have to learn fine motor skills, and following the above examples can push them to excel. We have Children's cutlery grips available designed for small hands.
Non-Slip Fabric for Hippotherapy Sessions
In hippotherapy, also known as equine-assisted therapy (physical and occupational therapy utilising the temperament and mobility of horses), you can place a piece of non-slip fabric between the rider and the saddle to ensure they don't slide off. It can also add additional grip to the reins making Tenura non-slip fabric advantageous during hippotherapy. Alternatively, silicone grip rolls would also provide similar results.
Bottle Openers in Physiotherapy Sessions
Recovery and re-establishment of independence are the primary goals of physiotherapy. Things such as opening bottles may be a big feat for your patient, and a daily living aid can be of help. For pill bottles, a grip-enhancing bottle opener can aid your patient, helping them to reach their goals quickly and encourage them to venture beyond their perceived limited ability.
At Tenura, we want to thank all physi­ot­he­rapists for their dedicated work improving the quality of life of their patients. If you have any further uses you would like to share with the physiotherapy community, get in touch, and we will add it to the blog.
If you have enjoyed this blog, please subscribe to our newsletter. We send out updates on hot industry news ad our latest exclusive deals.
Our working lives can and usually do involve much stress. Many people will try solutions to alleviate the pressure that gets built up through the day, allowing them to go about their duties with a much more positive frame of mind.
Here at Tenura, we believe in improving necessary everyday tasks, tasks that usually don't get a second thought, especially in a working environment. But did you know if these daily tasks take longer or are more complicated than usual, they can be attributable to increasing stress levels to a far higher level?
Below we discuss some ways to virtually eradicate the potential for various daily tasks and work areas from developing into stressful situations:
Avoiding Stress While Working in an Office
Tenura's range of daily living aids are even useful as slip prevention and grip-enhancement around the office regardless of any physical impairments. Below is a guide to areas of the office where Tenura daily living aids would be useful.
Increase Anti-Slip Properties on Office Desks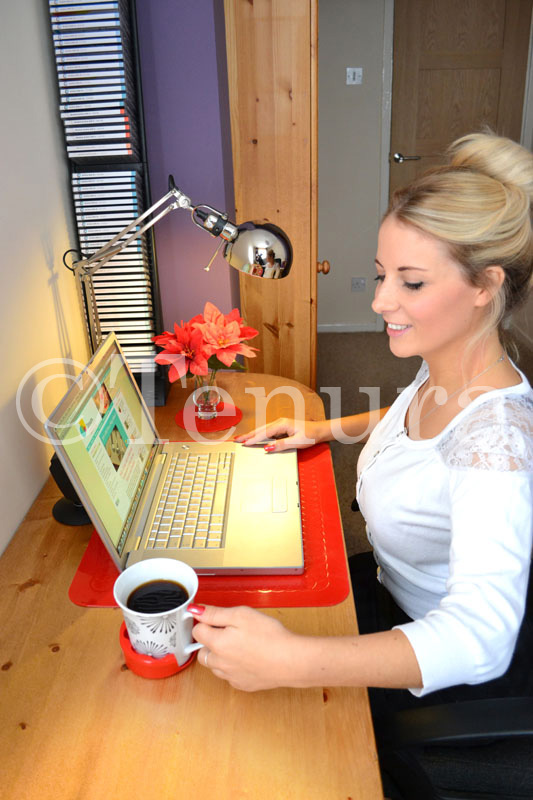 Many of us spend our working days, in an almost fixed position typing away on keys and clicking our mouse. Aside from your general awareness to sit in a correct, comfortable position, there are other things you can do to enhance the comfort of your working day.
Many desks have a veneer surface that is often quite slippy. A veneer surface is referred to in the industry as a 'low energy surface' and to you and me, a 'reduced friction' surface. Slippery surfaces can cause certain keyboards and mouse mats, as well as other items, to have insufficient grip, creating unnecessary movement and, ultimately, potential accidents and frustration as a result of this.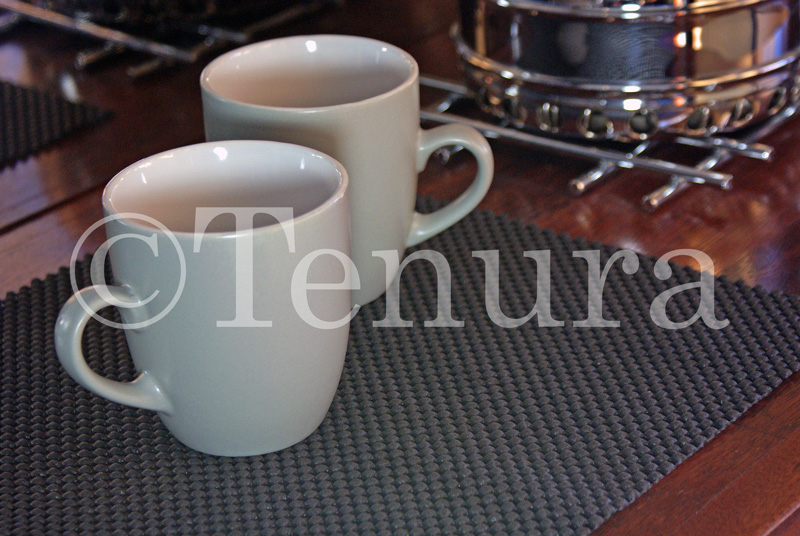 Tenura Anti-Slip Mats
Tenura can offer various solutions to suit this particular problem. Apply Tenura's range of anti-slip mats to create a high-energy surface that will help any item applied to grip more effectively to a surface. Tenura has various sized table mats available to either resolve a specific movement issue with a single item or cover virtually the entirety of the working area of your desk, so anything placed upon anti-slip mats will not easily slide.
Tenura Grip Strips and Non-Slip Rolls
Tenura grip strips and rolls are a more discreet option. With our pre-cut grip strips or non-slip rolls for you to cut to size and shape yourself, you can create a bespoke anti-slip solution to suit any task you desire. By being selective about how you place your Tenura anti-slip daily living aids, you can keep the aesthetics of your working environment as you like while improving working comfort.
Tenura Non-Slip Fabric
Tenura non-slip fabric is also an excellent option. As well as being non-slip, it can provide a more cushioned surface to provide relief for elbows, forearms or wrists whilst typing all day. Supplied in rolls, and being very easy to cut to size, the possibilities are virtually endless when using Tenura non-slip fabric, providing it is a cushioned, non-slip surface that is required.
Tenura Coasters and Cup Holder
For that mid-morning or afternoon coffee, tea or whatever drink you need to get you through the day, Tenura coasters are available in a range of sizes and styles to ensure you can buy one that is perfect for your needs. Want a coaster that will happily sit on your desk until it is required? Try our four-pack of square coasters or single pack circular coasters that are available in two sizes.
Want a drinks coaster that will go wherever you go? Tenura moulded cup holders are perfect for that office worker who is always on the move. Wherever you and your mug go, you can be sure there is a coaster there. Tenura cup holders form a silicone base around the cup. The drinks holder catches drips and also increases the surface area of the mug, which in turn reduces the risk of unwanted accidents and damage
Pens and Other Hand-Held Objects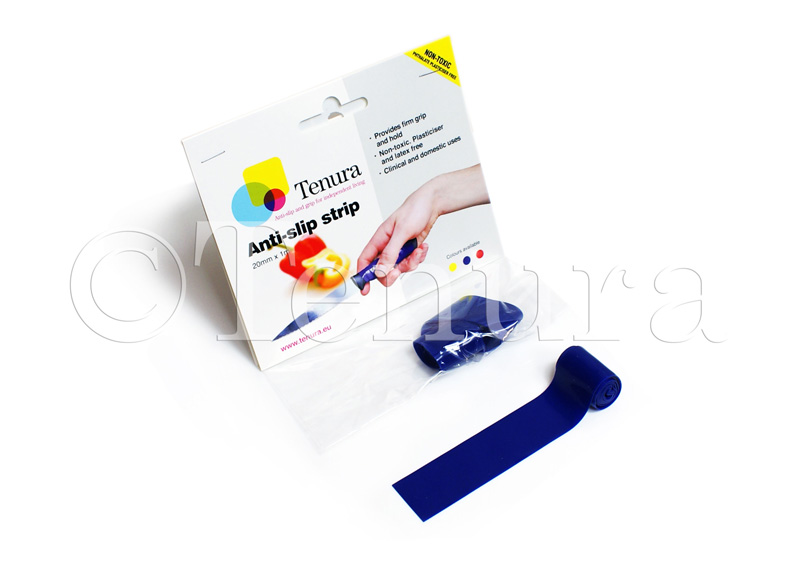 For those who experience discomfort or lack of grip with pens and many other hand-held utensils in the office (knives and forks at lunchtime, as one example), then Tenura has options to help you there also.
Tenura Grip Strips and Anti-Slip Rolls
Tenura grip strips again can be used as an effective solution to the problem. Pre-cut grip strips or even non-slip rolls are simple to cut to size, and can be wrapped around the item to increase surface size. This results in a larger, more comfortable surface area that decreases strain on joints and the need for as much strength of grip to be applied.
Tenura Cutlery Grips
Tenura cutlery grips are also another solution. By inserting the pen or similarly held utensils into the end, you instantly increase the surface area, which results in a much easier and more comfortable way to grip the item.
Tenura aims to improve daily living for everyone, and we hope that by you using Tenura daily living aids, we do indeed accomplish our mission. Tenura's mission is to help you perform day-to-day activities with much more ease and in greater comfort.
Many of the Tenura products mentioned in this article have various size options and colours available. Please visit the website to find out more or contact the Tenura sales team by phone. Alternatively, complete the contact us form and we will get back to you as soon as possible.
Tenura's latest addition to the daily living aids range is self-adhesive non-slip silicone reels. Our new product is our faithful non-slip silicone roll with a bonus: a strong self-adhesive backing. The adhesive backing means you can apply it to any area as an effective semi-permanent non-slip surface that will not only provide excellent non-slip properties but will not damage any items placed upon it.
The adhesive backing was an additional feature people have enquired about online, at meetings and exhibitions. Now Tenura is happy to make this available and supply an inexpensive, self-adhesive non-slip roll.
Tenura self-adhesive non-slip roll is useful in many domestic and industrial applications, such as in toolboxes, workbenches, breakfast bars or side tables at home or desks in the office. It can also be applied to handheld objects to increase grip and comfort. Tenura self-adhesive silicone reels decrease the risk of spills and prevent stains from objects resting on its surface. Thanks to the effortless peel-off backing, this material can be applied quickly and neatly, creating an aesthetically pleasing non-slip surface.
Tenura self-adhesive non-slip roll is highly versatile, due to you being able to cut pieces to size using scissors, making them ideal for when a non-slip surface is required. The cut to size versatility makes anti-slip roll perfect for areas where multiple or specific shape applications may be needed.
Like most of Tenura silicone non-slip and grip aids, Tenura self-adhesive non-slip reels can be cleaned with a simple combination of hot water and soap but will lose all non-slip properties whilst wet. Once dry, the silicone's non-slip properties will return, so we recommend allowing the surface to dry properly before using it.
Tenura self-adhesive non-slip reels are 1m x 20cm giving you a large amount of material to work with for your money. Non-slip reels are 0.5mm thick and available in blue.
Tenura self-adhesive non-slip reels can be purchased directly through our website. You can get free shipping on all Tenura products by spending over £50 or more!
Should you have any questions or queries about Tenura self-adhesive non-slip reels, please contact the sales team via phone or alternatively, complete the contact form and we will get back to you as soon as possible.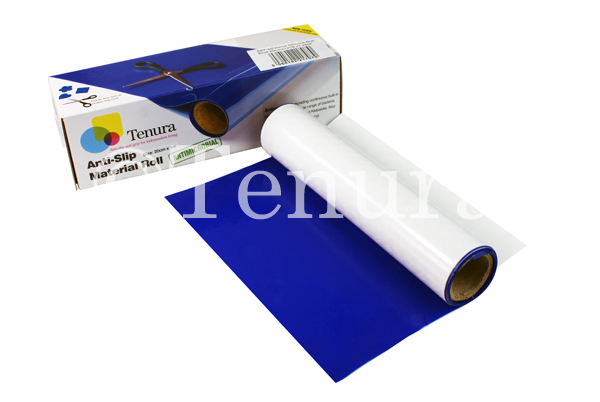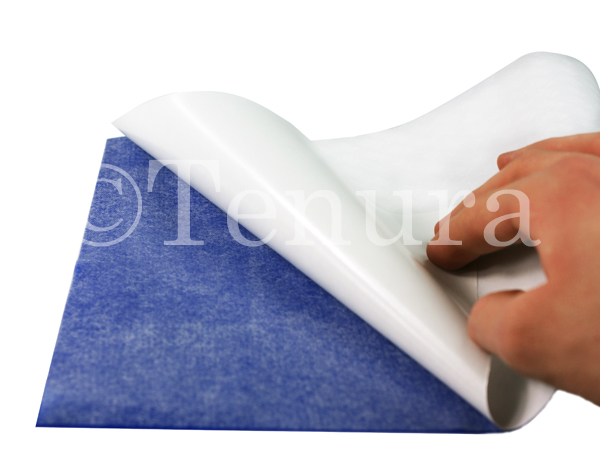 Posted in
Arthritis Aids
,
Assisted Living
,
Daily Living Aids
,
Independent Living
,
Social Media
,
Tenura Updates
,
Uncategorized
and tagged
Tenura
,
non-slip reel
,
non-slip roll
,
anti-slip reels
,
anti-slip rolls
on .