Our working lives can and usually do involve much stress. Many people will try solutions to alleviate the pressure that gets built up through the day, allowing them to go about their duties with a much more positive frame of mind.
Here at Tenura, we believe in improving necessary everyday tasks, tasks that usually don't get a second thought, especially in a working environment. But did you know if these daily tasks take longer or are more complicated than usual, they can be attributable to increasing stress levels to a far higher level?
Below we discuss some ways to virtually eradicate the potential for various daily tasks and work areas from developing into stressful situations:
Avoiding Stress While Working in an Office
Tenura's range of daily living aids are even useful as slip prevention and grip-enhancement around the office regardless of any physical impairments. Below is a guide to areas of the office where Tenura daily living aids would be useful.
Increase Anti-Slip Properties on Office Desks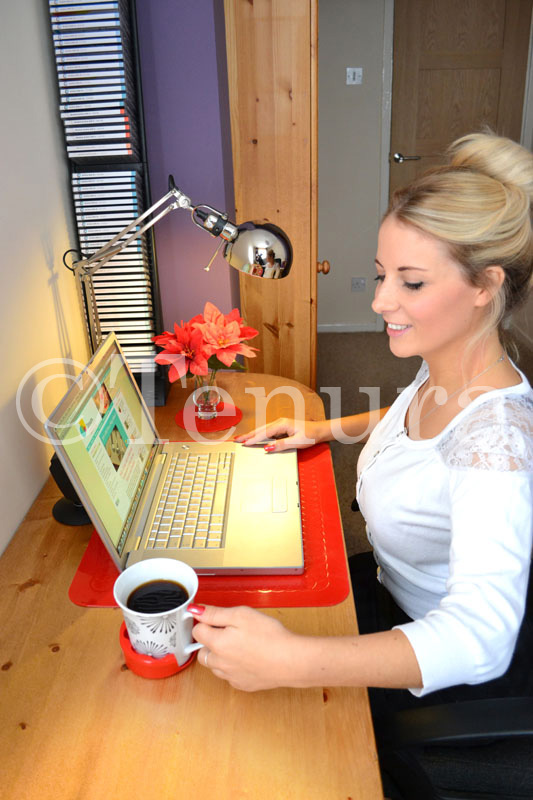 Many of us spend our working days, in an almost fixed position typing away on keys and clicking our mouse. Aside from your general awareness to sit in a correct, comfortable position, there are other things you can do to enhance the comfort of your working day.
Many desks have a veneer surface that is often quite slippy. A veneer surface is referred to in the industry as a 'low energy surface' and to you and me, a 'reduced friction' surface. Slippery surfaces can cause certain keyboards and mouse mats, as well as other items, to have insufficient grip, creating unnecessary movement and, ultimately, potential accidents and frustration as a result of this.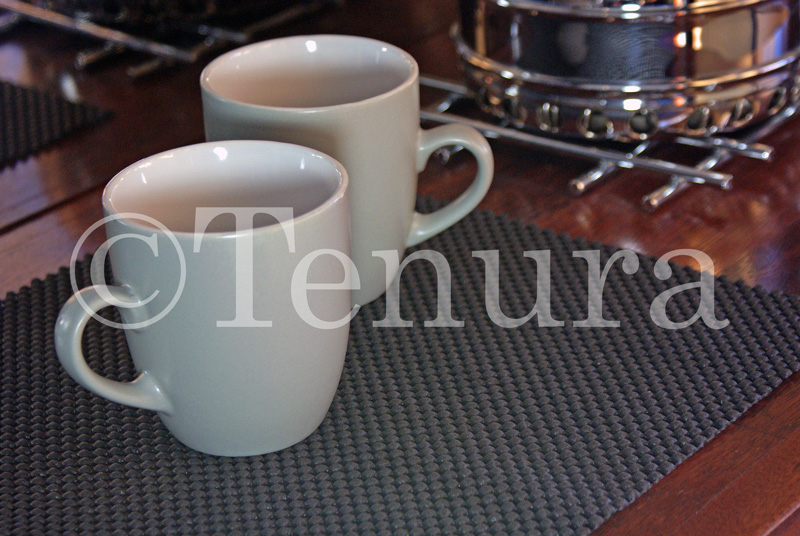 Tenura Anti-Slip Mats
Tenura can offer various solutions to suit this particular problem. Apply Tenura's range of anti-slip mats to create a high-energy surface that will help any item applied to grip more effectively to a surface. Tenura has various sized table mats available to either resolve a specific movement issue with a single item or cover virtually the entirety of the working area of your desk, so anything placed upon anti-slip mats will not easily slide.
Tenura Grip Strips and Non-Slip Rolls
Tenura grip strips and rolls are a more discreet option. With our pre-cut grip strips or non-slip rolls for you to cut to size and shape yourself, you can create a bespoke anti-slip solution to suit any task you desire. By being selective about how you place your Tenura anti-slip daily living aids, you can keep the aesthetics of your working environment as you like while improving working comfort.
Tenura Non-Slip Fabric
Tenura non-slip fabric is also an excellent option. As well as being non-slip, it can provide a more cushioned surface to provide relief for elbows, forearms or wrists whilst typing all day. Supplied in rolls, and being very easy to cut to size, the possibilities are virtually endless when using Tenura non-slip fabric, providing it is a cushioned, non-slip surface that is required.
Tenura Coasters and Cup Holder
For that mid-morning or afternoon coffee, tea or whatever drink you need to get you through the day, Tenura coasters are available in a range of sizes and styles to ensure you can buy one that is perfect for your needs. Want a coaster that will happily sit on your desk until it is required? Try our four-pack of square coasters or single pack circular coasters that are available in two sizes.
Want a drinks coaster that will go wherever you go? Tenura moulded cup holders are perfect for that office worker who is always on the move. Wherever you and your mug go, you can be sure there is a coaster there. Tenura cup holders form a silicone base around the cup. The drinks holder catches drips and also increases the surface area of the mug, which in turn reduces the risk of unwanted accidents and damage
Pens and Other Hand-Held Objects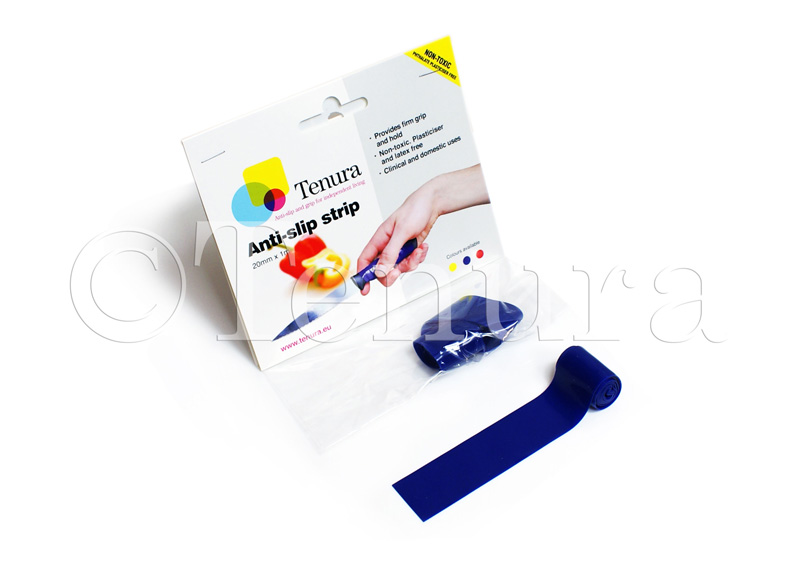 For those who experience discomfort or lack of grip with pens and many other hand-held utensils in the office (knives and forks at lunchtime, as one example), then Tenura has options to help you there also.
Tenura Grip Strips and Anti-Slip Rolls
Tenura grip strips again can be used as an effective solution to the problem. Pre-cut grip strips or even non-slip rolls are simple to cut to size, and can be wrapped around the item to increase surface size. This results in a larger, more comfortable surface area that decreases strain on joints and the need for as much strength of grip to be applied.
Tenura Cutlery Grips
Tenura cutlery grips are also another solution. By inserting the pen or similarly held utensils into the end, you instantly increase the surface area, which results in a much easier and more comfortable way to grip the item.
Tenura aims to improve daily living for everyone, and we hope that by you using Tenura daily living aids, we do indeed accomplish our mission. Tenura's mission is to help you perform day-to-day activities with much more ease and in greater comfort.
Many of the Tenura products mentioned in this article have various size options and colours available. Please visit the website to find out more or contact the Tenura sales team by phone. Alternatively, complete the contact us form and we will get back to you as soon as possible.