AOTA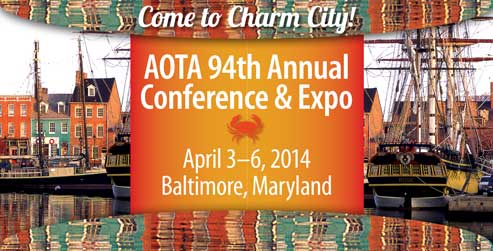 This year we head over to Baltimore, Maryland, for the 94th annual AOTA conference & expo. From April the 3rd until the 6th, thousands of OT professionals and businesses will descend upon Maryland to create a massive conference and expo that is the largest of the year in Occupational Therapy, and a chance to learn new advancements, and even old ones, as well as personal progression are all available to everyone who attends, with the opportunity to forge new friendships, and strengthen old acquaintances.
The program guide you receive upon entry will keep you informed of all the events that are on during the course of the expo, including but not limited to Tech Day, Fitness Sessions, International Breakfast and the Eleanor Clarke Slagle Lecture.
We will be there to not only meet new people, and see some old acquaintances, but to inform as many people as we can about our new products, latest innovations and of course introduce our daily living aids to a new audience.
An opportunity to venture in to the wonderful city of Baltimore is there too, which has been advised to do if you can drag yourself away from the large-scale expo. With local landmarks such as Fort Henry, the Inner Harbor and the National Aquarium amongst others, it would be silly to miss such an opportunity.
So pack your bags and jump on the plane, and we shall see you there!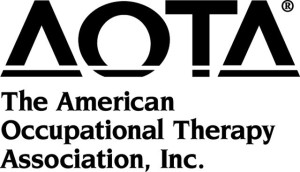 Established as far back as 1917, The American Occupational Therapy Associationis a professional body that addresses the interests and concerns of practitioners or students within occupational therapy to help improve the quality of these services.
While primarily American, it is proud to have members all over the world, consisting of therapists, assistants and students, all working together to improve the access to health care services for consumers, while helping their members professional development.
AOTA not only provides resources to meet these goals, but also set the standards to ensure high quality, standing in as an advocate for the improvement of health care.
Regarding Tenura and our dealings with AOTA? Well this will be our second year at their annual conference and expo, located at the San Diego Convention Centre, in California, running from Thursday the 25th until Sunday the 28th of April. We will be exhibiting alongside our exclusive distributor of Tenura in the US, Maddak, one of the largest retailers of daily living aids in America.
Judging by the success of last years exhibit, we can be sure that, with our recent updates, we will have much, much more to again catch the attention of visitors to the AOTA conference.
During the welcome ceremony, between the hours of 4 and 5.30pm, Aron Ralston, Adventurer and subject of the film '127 Hours' which stars James Franco, a film based on Aron's unfortunate experiences while canyoneering, where he had to amputate his own arm to free himself from a boulder that trapped him. Ralston will be one of the keynote speakers, and will talk about that experience and occupational therapies role in his recovery.
If you haven't seen '127 hours', I would recommend it highly, it's a truly excellent movie.
We will be monitoring all the usual channels as best as we can ( I am in the UK, so the time difference is quite large ), but still, we will be Tweeting before the event too, so please let us know if you will be in attendance, and I will keep people up to date with where our stand is.
It would be great to see you all!
Posted in
Exhibitions
and tagged
127 hours
,
2013
,
AOTA
,
aron ralston
,
california
,
conference
,
exhibition
,
expo
,
maddak
,
san diego
,
tenura
on .
Well in to the new year, i've finally got round to writing a new blog post ( we were supposed to get a WordPress blog integrated in to the site, but that didn't happen due to one factor, if you guess what it is, i'll send you a bottle opener! ), and beings as we've been busy recently, I thought I would tell you about it.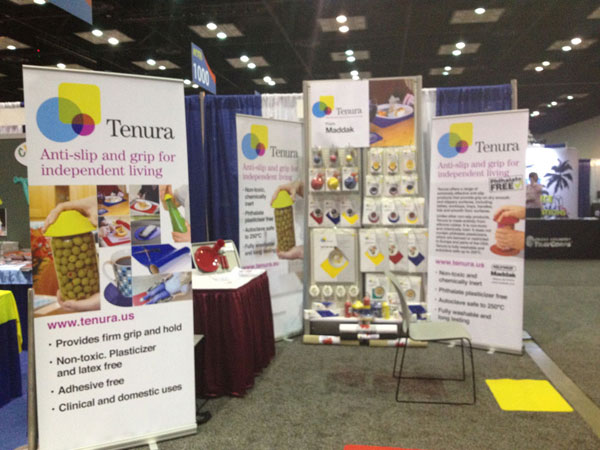 Last week, we attended the AOTA ( American Occupation Therapy Association ) Expo and Conference in Indianapolis, USA.This ran from the 26th until the 29th of April, where one of our Sales Managers had a booth seperate to our now exclusive US distributors of Tenura, Maddak inc, albeit cross-promoting products to increase event coverage. This also coincided with our launch of Tenura USA, an info/ecommerce portal site targeted towards the US market, with Maddak taking all orders and enquiries.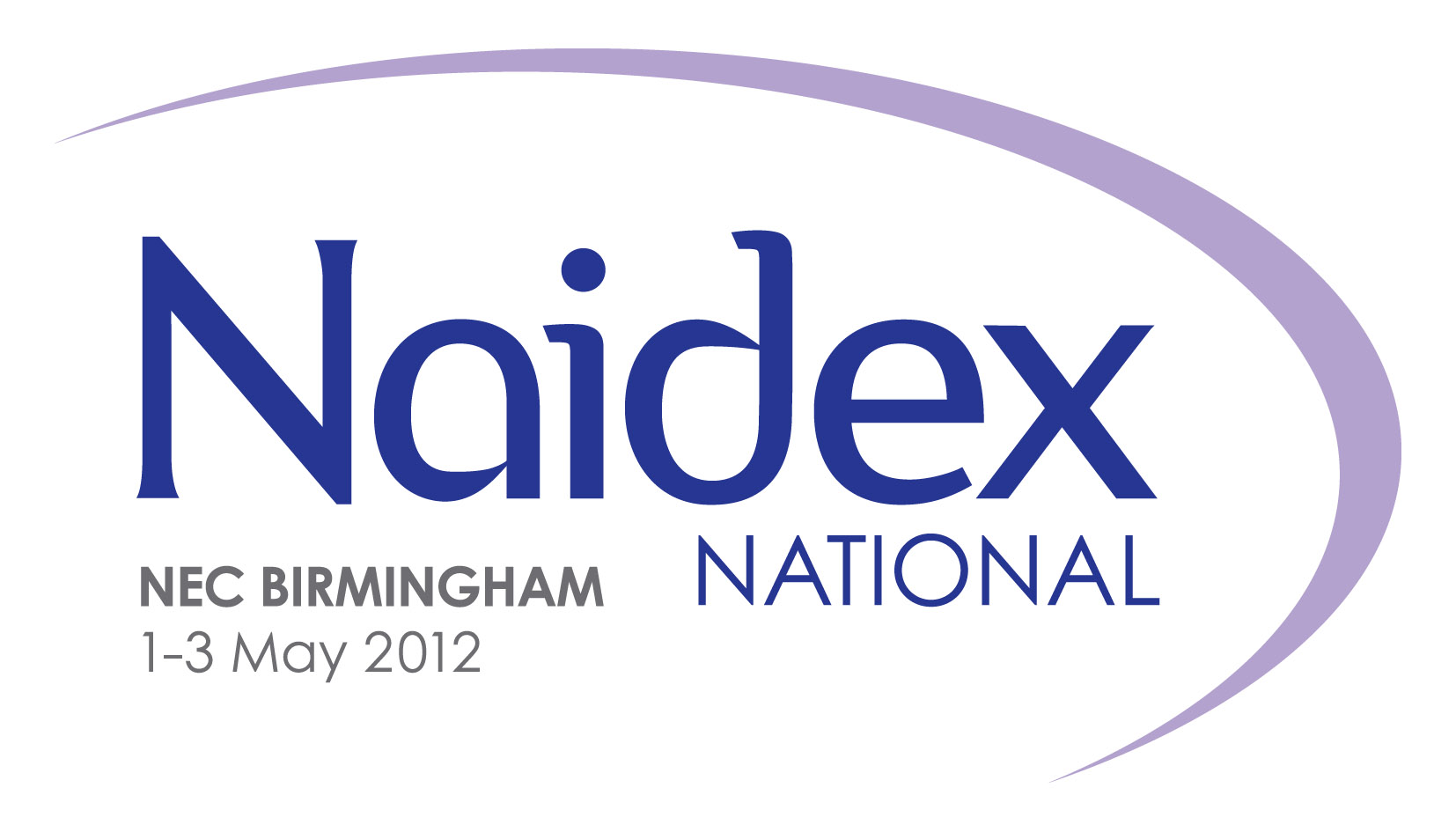 Last week, we where at the NEC in Birmingham exhibiting at the Naidex NationalExhibition, running from the 1st of May through until the 3rd. Both expos generated a lot of interest for us, and we hope to have our products stocked in many more retailers soon, increasing brand awareness throughout the internet particularly.
We do plan, and are arranging to visit more expos this year, with Glasgow being one city that has been mentioned. That may just have to wait for another post though.
Many thanks to Kathleen at Maddak for helping us out at the AOTA festival, and I hope those that we did meet at both expos will be in touch soon.
If you saw us at either one, please let us know!!