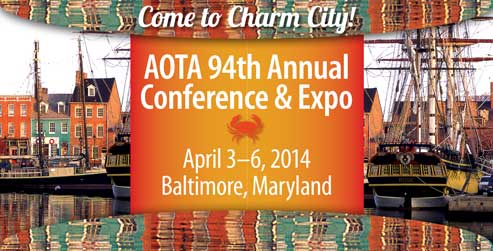 This year we head over to Baltimore, Maryland, for the 94th annual AOTA conference & expo. From April the 3rd until the 6th, thousands of OT professionals and businesses will descend upon Maryland to create a massive conference and expo that is the largest of the year in Occupational Therapy, and a chance to learn new advancements, and even old ones, as well as personal progression are all available to everyone who attends, with the opportunity to forge new friendships, and strengthen old acquaintances.
The program guide you receive upon entry will keep you informed of all the events that are on during the course of the expo, including but not limited to Tech Day, Fitness Sessions, International Breakfast and the Eleanor Clarke Slagle Lecture.
We will be there to not only meet new people, and see some old acquaintances, but to inform as many people as we can about our new products, latest innovations and of course introduce our daily living aids to a new audience.
An opportunity to venture in to the wonderful city of Baltimore is there too, which has been advised to do if you can drag yourself away from the large-scale expo. With local landmarks such as Fort Henry, the Inner Harbor and the National Aquarium amongst others, it would be silly to miss such an opportunity.
So pack your bags and jump on the plane, and we shall see you there!