opening times
At Tenura, our dedication to creating daily living aids for independent living is fuelled by your continuous support and trust. As the holiday season approaches, at Tenura we would love to express our deepest gratitude to our customers for being an integral part of our journey.
Closing Dates:
Please take note of our holiday closure schedule:
December 25th: Closed for Christmas Day
December 26th: Closed for Boxing Day
December 27th: Closed
December 28th & 29th: Limited staffing
January 1st: Closed for New Year's Day
During our closure period, there will be interruptions in order processing and shipping. Orders placed from December 24th onwards may experience slight delays in processing and shipment. Upon our return, we will diligently attend to all pending orders and inquiries.
We want to take this opportunity to express our heartfelt thanks for your unwavering support and trust in Tenura. Your feedback, loyalty, and trust have been invaluable to us, inspiring us to continuously innovate and improve our products to better serve your needs.
As the holiday spirit fills the air, we wish you and your family a Merry Christmas filled with laughter, love, and cherished moments. May the New Year bring you joy, success, and continued good health.
How to Stay Connected:
Although our physical offices will be closed during this time, our website remains open for browsing our range of life-enhancing daily living aids. For any urgent inquiries or assistance, please reach out to us via the enquiry form. We will do our best to respond promptly, especially during our limited staffing days.
Your support has been instrumental in our journey to assist individuals in achieving greater independence and ease in their daily lives. We deeply appreciate your trust in Tenura, and we're excited to continue providing high-quality products and exceptional service in the coming year.
The Tenura Team
We have had such an exciting year here at Tenura. The world is getting on its feet again, face-to-face contact is back for good, and boy did we love seeing our customer's at the various exhibitions we have attended this year.
You may have seen us at the FIME Show in Miami or Rehacare in Germany. We had great fun, and it was nice to meet as many of you as we did. Next year we hope to be in attendance once again.
Other ideas we have set out for ourselves in the coming year include researching and reaching out to customers to see the innovative ways they are using Tenura daily living aids, so we can help educate others.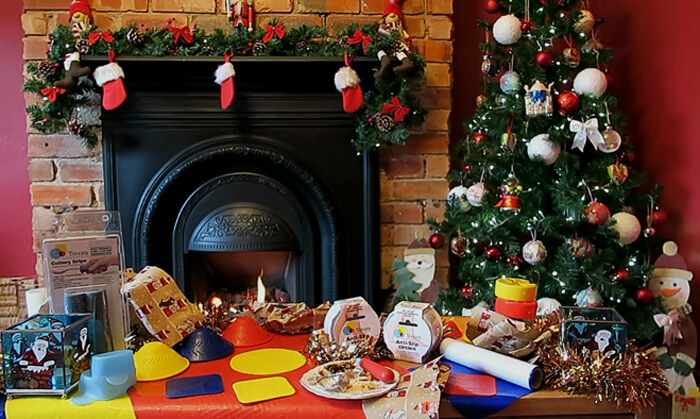 We want to keep bringing you the latest in healthcare and disability news via our blog as well as exclusive discounts for the Tenura website. You can use these discounts to get your Tenura daily living aids at an even better price than they are already listed!
You can explore the Tenura product range via our website/
The Christmas and New Year opening times are as follows:
26th December - Closed
27th December – Closed
28th December – Open, limited services
29th December – Open, limited services
30th December – Closed
31st December – Closed
1st January - Closed
2nd January - Closed
3rd January – Business resumes as normal
Thanks for taking the time to read the last 2022 blog. We hope you'll continue showing your support in 2023! Have a great Christmas and a Happy New Year!

I think we are all glad that this crazy year is coming to an end. We have all navigated through an international pandemic, lack of travel and Brexit blunders, so I think this holiday is well earned.
We want to thank you for your continued support of the brand and our goal of helping people remain living independently with the assistance of grip-enhancing and non-slip Tenura products.
The Tenura team are greatly looking forward to Christmas this year, as we can spend it with our family and close friends. We will also be spreading the Christmas cheer by calling those family members or friends who are self-isolating.
A Look at Tenura's 2021
In 2021, Tenura participated in the Purple Tuesday campaign. Our goal for the campaign was to make the website more accessible for disabled individuals. We are continuing with this initiative in the coming year. We also helped to spread awareness and key information about some causes close to us and our customers:
More products from the Tenura range are now available in cardboard cartons as we move away from plastic packaging and towards eco-friendly alternatives, and 2022 will be no different. You can read about our eco-friendly initiatives in the 'Fixing the Plastic Crisis' blog.
We enjoyed watching the fantastic Paralympians competing at the Tokyo Paralympics and created a blog looking at ways to make sports more accessible for the disabled. We are excited to watch the Beijing Winter Paralympic Games in 2022.
Our Opening Times
You may be thinking of purchasing some Tenura products in time for Christmas. To ensure they arrive, we suggest you place your order before the 22nd of December, as this gives our little helpers and the couriers ample opportunity to make delivery.
Our services will be limited over the festive period. Tenura's opening times are below:
27th December – Closed
28th December – Closed
29th December – Closed
30th December – 8.30am – 5.30pm
31st December – 8.30am – 5.30pm
3rd January – Closed
4th January – Business resumes as normal
If you want Tenura updates, you can subscribe to our newsletter or follow our social media accounts to stay informed on opening hours and other helpful information:
We hope you have a Happy Christmas and New Year. See you in 2022!