daily living aid
Cleaning a surface with IPA cleaner before applying Tenura bathroom stickers is the correct procedure to ensure long-lasting performance. Using our experience and knowledge gained from working within the industry since 1997, we have invaluable information to pass down to our loyal customer base, yes, that's right, you! In this blog post, we explain why IPA cleaner is essential when applying Tenura bath stickers.
What is IPA cleaner?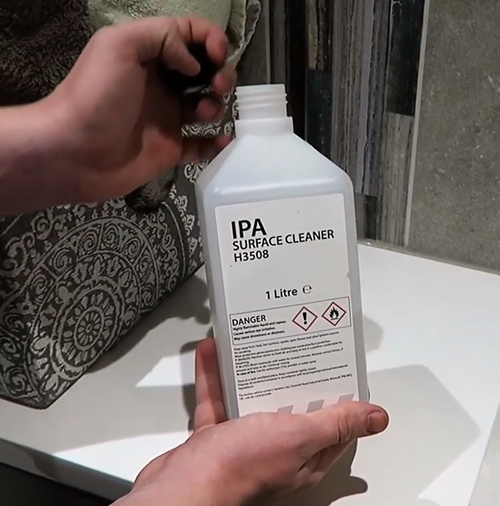 IPA cleaner, also known as Isopropyl Alcohol, is a disinfectant cleaner often used in medical environments. In our industry, we use it to remove grease and dirt from a surface before application. There are two variants, 70% and 99% IPA. Both are suitable for the application of Tenura non slip bath stickers.
Each has its uses; for instance, 99% IPA is fantastic for cleansing electronics due to its higher volume of alcohol, which evaporates quickly, avoiding damage to water sensitive components. 70% IPA cleaner contains 30% water. Research suggests that it is a better disinfectant, which is based upon the fact that water is a catalyst (accelerator) in this equation, the additional 29% water means the solution evaporates at a slower rate. Due to this, the solution remains on the surface for longer, destroying the growth of microorganisms.
How does IPA cleaner work?
IPA cleaner dissolves acids from the surface and with usual cleaning methods can remove contaminants such as dirt, grease and oil. These contaminants prevent anti slip bathroom stickers adhering to surfaces, in this case, bathtubs or shower trays.
Why use IPA cleaner?
Many people use cream-based cleaners to clean their bathtubs or shower trays. The main reason for non-slip bathroom stickers failing is the use of cream-based cleaners before application. Cream-based cleaners often leave a powdery residue, which prevents the bathroom stickers adhesive from effectively bonding to the surface, causing them to fail. Using IPA cleaner correctly removes all contaminants from a surface, allowing the adhesive to achieve a strong bond. This is why IPA cleaner is the perfect choice for use in the application of anti-slip bath stickers.
Where can I buy IPA cleaner for bath sticker application?
There are many online shops where you can order IPA cleaner. We have rounded up top retailers selling IPA cleaner under £10!
| Retailer | Price | Composition | Volume | Medium |
| --- | --- | --- | --- | --- |
| Ebay | £3.99 | 99.9% | 50ml | Miniature Spray Bottle |
| Cheap Franking Supplies | £4.99 | 99.9% | N/A | Wipes (5) |
| Antistat | £5.10 | 70% | N/A | Wipes (200) |
| Hexeal | £9.26 | 99.9% | 1L | Jerry Can |
| RS | £9.29 | 99.9% | 500ml | Tinned Solution |
| Cromwell | £9.34 | 99.9% | 400ml | Aerosol |
| Amazon | £9.99 | 99.9% | 500ml | Twist Cap Solution |
As you can see above, there are many forms of IPA cleaner, choose one that you are comfortable using. There are a few quantities to choose from as IPA cleaner has many uses, so this purchase is not solely for Tenura anti slip bath stickers. For instance, you can disinfect many surfaces in your home as it is safe to use on plastics and glass, which is crucial during this current pandemic.
How can I use IPA cleaner safely?
You must make sure the room is well ventilated. It is essential as IPA cleaner contains alcohol, which gives off fumes that can be toxic. Ensure the room is ventilated, by opening windows and doors, allowing fresh air to enter.
Please also note it is incredibly flammable due to the concentration of alcohol, so keep well away from flames, e.g. lit candles in your bathroom.
What are bath stickers?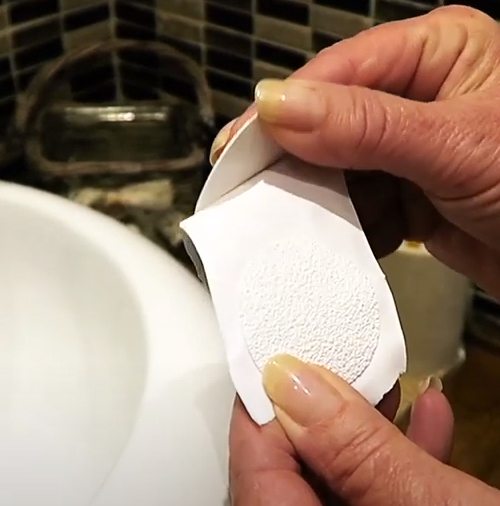 Anti slip bath stickers are small pre-cut shapes that you can apply to your bathtub or shower to add non-slip properties. Tenura bath stickers are an essential daily living aid in any bathroom and can help everyone gain confidence by having a sure-footing when bathing. Tenura bath stickers come in two shapes (circles and strips) and two colours (transparent and white).
How do I apply anti slip bathroom stickers?
We have an in-depth blog that goes into detail to make sure your bath stickers are applied correctly for ultimate longevity. Read our blog post on "How to Apply Tenura Non Slip Bath Stickers".
IPA cleaner produces the best result, ensuring Tenura bath stickers adhere optimally. Now you know all about Tenuras top tip regarding the application of Tenura bath stickers! You can explore more innovative Tenura daily living aids via our products page and broaden your knowledge via the Tenura blog, so please subscribe.
All prices in the IPA cleaner table are correct at the time of publication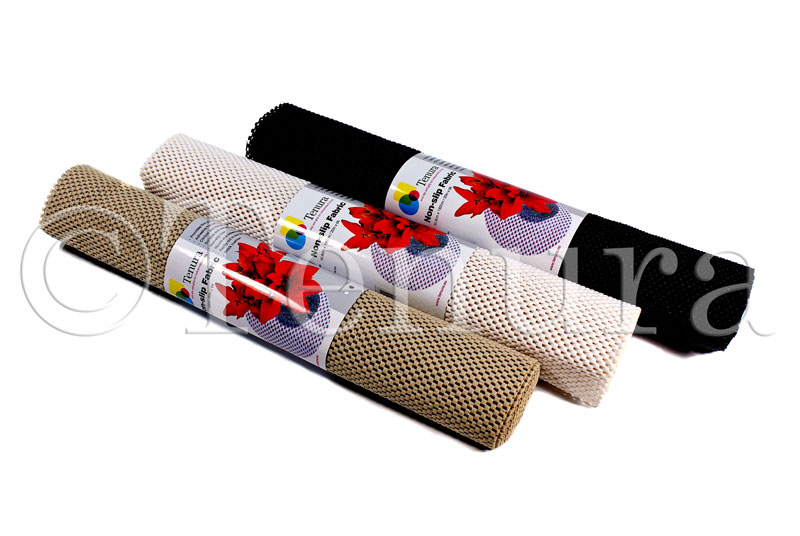 Our non-slip fabric is one of our most popular daily living aids, and with its versatility, it's no surprise.
Tenura non-slip fabric is made of non-slip foam, bonded onto a polyester mesh, which gives it great non-slip qualities on both sides. The polyester mesh means that the non-slip material is waterproof, which opens up the uses of the fabric and makes it easy to clean. The non-slip fabric does not stretch due to its reinforced skeleton. It can be cut down to any shape and size to suit any object or surface. The anti-slip fabric comes in three colours (black, white and beige).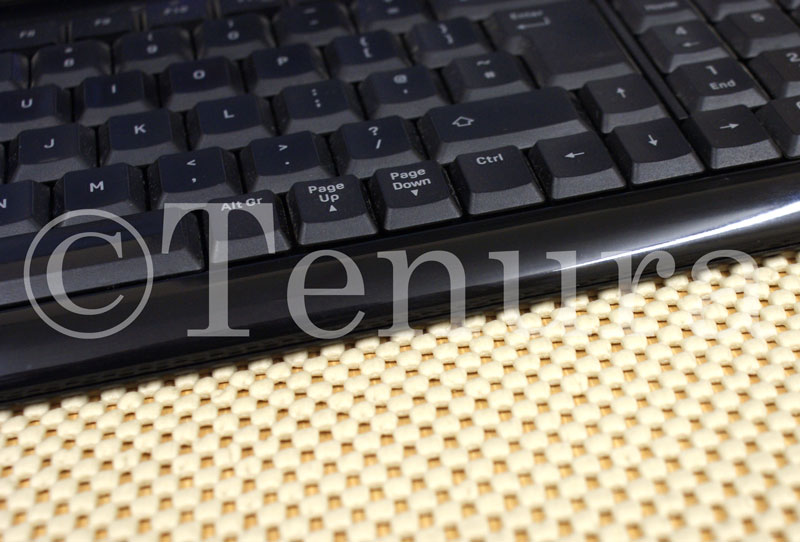 Tenura Non-slip Fabric Under A Keyboard
At Tenura we use it for all sorts of applications in the office. Many members of staff have the non-slip fabric under their keyboards to stop unwanted movement. The non-slip fabric acts as a rest for wrists as it is a comfortable cushion, which is very welcome after days typing, like blog posting days. Many of us spend a lot of time on computers and Tenura non-slip fabric can be beneficial to all.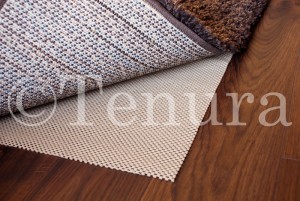 Tenura Non-slip Fabric As Carpet/Rug Underlay
Carpet underlay is another excellent use for Tenura anti-slip fabric. Cut down the fabric and place it on the floor. Cover the fabric with the carpet. The anti-slip fabric keeps the rug in place and stops unwanted movement. For those with wooden floors, carpets/rugs with no non-slip fabric underneath can slip from under your feet. A fall to those who are elderly or disabled can have serious repercussions, so it is vital to keep them safe.
Other Tenura Non-slip Fabric Applications
We have also seen the Tenura non-slip fabric being used in the following applications:
Lining for draws, shelves and trays
On sofas to keep cushions in place
DIY-To keep your tools in position
DIY-When sanding which keeps the object secure and minimizes movement
Holds objects firm on surfaces that are not horizontal and/or are subject to motion
Buy a roll of Tenura non-slip fabric today and secure your home or the home of a loved one. Please get in touch and let us know what innovative things you have used the non-slip fabric for and don't forget to send us some pictures via our social media channels; Facebook, Twitter and Instagram.