special offer
Another year has come and gone, yet for us here at Tenura, we can look back on it with some pride. Our first full year has gone exceptionally well if we do say so ourselves, and with big plans for the beginning of the year, 2013 is only going to get better.
It still feels a bit strange that were in 2012….
At 5pm today, we will be finishing work for the year, downing tools so to speak, and will be returning in the New Year at 8.30am on the 2nd of January.
The website will still be accepting orders, however please note that any orders made after 12.00pm on the 21st will not be sent out until the 2nd of January at the earliest, so please get those orders in if you need them for Christmas!!
For those who may miss out though, all is not lost, as we are offering a 15% discount throughout the Festive period, just enter the code 'FESTIVE15′ during checkout to get your discount.
It starts today! and will continue until the end of play on the 2nd of January, an extra day to grab yourself some Tenura bargains.
From all of us at Tenura, we wish you a Merry Christmas, and a Happy New Year.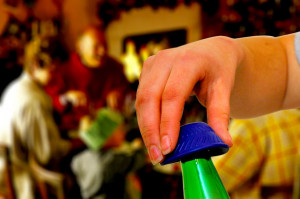 It's very close to the Festive season, the season to be jolly, and soon houses will be filled with celebration and cheer. There are of course, guests to tend to, the Christmas dinner to be prepped and cooked, and of course not forgetting the drinks to go round ( mines a bourbon please ).
All this requires a lot of work, and a little help will go a long way.
Tenura daily living aids can be used to open bottles, line trays to prevent food spillage, hold chopping boards, enhance grip on knives, you can put baking trays on it ( don't forget to let that turkey rest! ) due to its heat resistance, as well as many other grip enhancing and anti slip solutions around the home. You can even kit out the dining table, our range of yellow, blue and red colours would enhance the festive cheer!
All of our daily living aids are non toxic, so can be used around food, whether prepping or eating, as we have met and exceeded all regulations to ensure the material is safe for use in all areas, for all ages.
Look out for a Christmas and New Year online offer coming to Facebook, Twitter, Google+ and the site itself.
Tenura anti slip floor mats are a useful item to have around the home and clinical areas. When you have a disability, ailment or injury, movement is difficult, and you need all the stability you can get.
Silicone anti slip floor mats can assist in all these, giving you the stability you need when walking from one place to another, or simply standing up or sitting down, as the grip provided by these mats will remove the paranoia of losing your footing.
Tenura anti slip floor mats are not suitable for wet weather use ( please see Tenura bathroom stickers for this ), but hold very firm in dry conditions, as silicone as it's own adhesive-like qualities, though will leave no residue when removed. As well as for use inside the home, they can be used as door mats, or even to simply place dirty shoes on to prevent your carpet or floor from getting dirty.
Right now, we are offering a staggering 28% off our floor mats, so now is a chance to pick one up!
You can visit our website, call or email us, and we will be happy to help you.