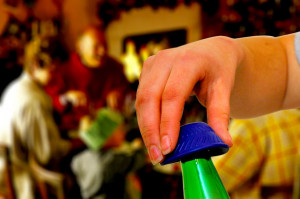 It's very close to the Festive season, the season to be jolly, and soon houses will be filled with celebration and cheer. There are of course, guests to tend to, the Christmas dinner to be prepped and cooked, and of course not forgetting the drinks to go round ( mines a bourbon please ).
All this requires a lot of work, and a little help will go a long way.
Tenura daily living aids can be used to open bottles, line trays to prevent food spillage, hold chopping boards, enhance grip on knives, you can put baking trays on it ( don't forget to let that turkey rest! ) due to its heat resistance, as well as many other grip enhancing and anti slip solutions around the home. You can even kit out the dining table, our range of yellow, blue and red colours would enhance the festive cheer!
All of our daily living aids are non toxic, so can be used around food, whether prepping or eating, as we have met and exceeded all regulations to ensure the material is safe for use in all areas, for all ages.
Look out for a Christmas and New Year online offer coming to Facebook, Twitter, Google+ and the site itself.