aqua safe discs
One of our most popular products in the Tenura range is the Anti –Slip Aqua Safe bath strips and discs. These products are a very simple, very subtle and a very effective solution for helping the prevention of slips and falls in baths, showers and wet rooms. The surface of the product is designed to have exceptional grip when the product is wet but also to not be too abrasive on bare skin and cause skin irritation. The design also makes the product very easy to clean and will not harbor bacteria. This makes them far more effective than rubber bath mats.
One thing I would like to touch on in this Blog is the correct application method for applying the Aqua Safe stickers, due to questions raised by customers, on a weekly basis.
The adhesive sticker on the back of the product will only stick to a completely dry surface. Otherwise the stickers will peel up after a couple of rinses. We suggest wiping the shower surface down with an alcohol based cleaner to remove any moisture or residue that may be on the bottom of the tray. We only recommend alcohol based cleaners, as using cream based cleaners leave a residue which will contaminate the adhesive, causing it to fail.
If they applied correctly the Strips or Discs are guaranteed for up to 5 years. There is no set way to apply the stickers but you can download our suggested application template for the Aqua Safe stickers from these links:
A couple months ago we provided sample packs of Tenura products to different Occupational Therapists around the country. We wanted to get an honest opinion of our products from professionals. The feedback we received has been great and a lot of the Occupational Therapists who received sample packs and have spoken to at exhibitions now recommend Tenura products to their clients.
Recently we have received photographs from the Merlin Centre in Cornwall. Their experts provide a range of care, support and therapies to improve the lives of people with Multiple Sclerosis and other neurological conditions. Not only do they help the individuals effected, but they help their families and the people who care for them too.
The people there have been finding new ways to use Tenura at the day centre. One of the exercises they have been doing helps rehabilitate people to allow them to walk freely again. This has included the application of our Aqua Safe, anti slip stickers on a wooden walk way. This not only aids grip, but assists with co-ordination too, as the contrast of the white stickers on brown wooden flooring makes a clear visual target for people to place their feet.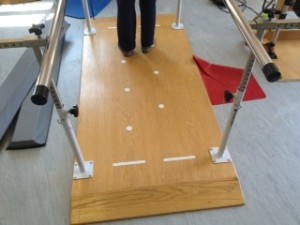 This is not the only exercise being implemented at the Merlin Centre that features Tenura products, but we hope to embellish on those in another blog post.
If you have any interesting ways of using our bathroom stickers, aside from their intended use, please let us know, we would love to hear from you.
Our new Tenura video is an introduction to the silicone daily living aids range, presented in various ways Tenura products can be helpful around the home.
Be sure to check out our YouTube channel to stay up to date with Tenura's products, services and more!
Our statement is essential and something we wish to deliver to customers through our products and publications. Tenura daily living aids can provide additional help in areas around the home, making it a more accessible place to live. Independent living is essential for the wellbeing of the elderly and disabled. It can bring them joy and help them remain at home. For the relatives of those who require daily living aids, it can build their confidence, knowing that their loved ones have the means to live independently.
We hope you enjoy watching it as much as the team did making the video and we wish to continue to produce daily living aids that are innovative in design and purpose-built to help our customers in their daily lives. Tenura will always aim to be a leading brand in the industry, delivering high-quality daily living aids that are packed with benefits. A few benefits of our silicone daily living aids include:
Dishwasher safe (withstanding temperatures of up to 250°C)
Non-Toxic and free from phthalate plasticisers
Antimicrobial, preventing fungi and bacteria from harbouring
Non-slip, helping you to avoid spillages, breakages and injury
Tenura daily living aids are also a great addition to care homes and clinical environments. They have been popular with occupational therapists for the purpose of rehabilitation. If you do require a large bulk purchase or wish to speak to a member of the sales department, please get in touch via phone, or complete the contact us form and we will get back to you as soon as possible.
We hope to release some more videos to introduce you to our expanding range of daily living aids, so to stay up to date with Tenura, please subscribe to the YouTube channel. Please leave us a comment and let us know what content you would like to see in the future.