coronavirus
The UK is currently in self-isolation, which means we are all in the confines of our homes. As many of us are not used to having this much free time in the home, it can sometimes be difficult to come up with means of entertainment to keep us occupied. Therefore, Tenura has come up with fun, entertaining activities involving Tenura daily living aids you can do at home. Some of the activities include brain training, arts and crafts, as well as fitness plus much more, so there is something for everybody in this blog.
As many of us are not used to having this much free time in the home, it can sometimes be difficult
Use the code COV19 to receive 10% off your order on the Tenura website.

Our living aids can be of help during this time. The code is valid till the 19th of April, redeemable at checkout. Being restricted does not mean you can't have fun, so we have listed some activities you can get up to with other members of the household, to help the time pass.
Tenura daily living aids are made from 100% silicone and have anti-microbial properties. Tenura living aids are treated with silver nitrate, which prevents the harbouring of bacteria. You can use our products in conjunction with other objects around the house to keep you entertained and safe. Tenura daily living aids are easily cleaned. Simply hand wash with soap and hot water or via a dishwasher due to their temperature resistance (up to 250°C). The grip properties of Tenura products will return once dry.
Exercise
Exercise is a great way to pass the time. You could wrap Tenura anti-slip grip strips around dumbbells to make sure they do not slip out of your hands. Tenura grip strips also make the weights more comfortable to grasp. Keeping up your fitness levels will also help to maintain your wellbeing, as it releases endorphins, which is a chemical your brain produces to relieve stress and make you feel happy. Staying fit and happy is vital for health.
Drawing and Writing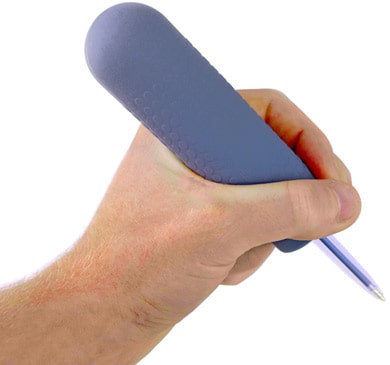 Tenura cutlery grips allow you to slide a pen or paintbrush into the opening to use as a writing aid or drawing aid. Adult colouring books, sketch pads and puzzles can be great for relaxation as many find them therapeutic. No matter your interests, there is a colouring book out there for you. If you do not want to be confined by lines, then a sketchbook can be your release of energy. You can paint and draw in the sketchbook. You could also turn the sketchbook into a scrapbooking project which makes use of all your favourite family photos and can be an incredibly creative activity. Puzzles help to keep the brain active. An all-time favourite is Sudoku, but of course, there are crosswords. These brain teasers can keep you entertained for hours.
Writing is another outlet for your brain. You can use your imagination and transport yourself to another world. There are plenty of guides on the internet that can help you improve your skills. Pens slide into the cutlery grips and provide the user with a larger area to grasp. They also add weight to the pen, which can help give the user more control.
Board games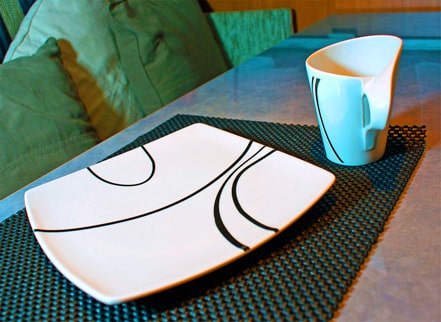 If you are living with others during self-isolation, you can use Tenura non slip fabric or the Tenura anti-slip table mat under board games to keep them in place. It is annoying during a heated game when somebody knocks the table and the board shifts.
There are many board games available on the market to suit all interests. For example, word games that use your language skills and imagination, mathematical games and tactical games which require you to be a step ahead of the other players. If your family doesn't have a competitive streak, then there are cooperative board games that require communication and teamwork, these types of games should also avoid rivalry.
Baking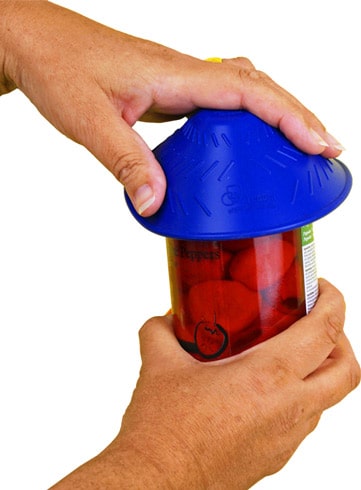 Find a great recipe or use one passed down through generations. This activity is rewarding as you have some tasty cakes or biscuits at the end. You can get your family involved or do this on your own for a bit of solitude. There are plenty of our living aids you can use when baking; for instance, the Tenura silicone jar opener can be used to twist lids off easily. The jar opener is perfect if you are making the classic Victoria Sponge and need aid in opening strawberry jam. Tenura table mats can provide a non-slip surface under mixing bowls, which help to keep the bowl in place as you are mixing ingredients.
Save 10% off Tenura daily living aids today using code COV19 at checkout.

We at Tenura want you to remain safe, so follow the guidelines and help the world by stopping the spread of the Coronavirus.
The Coronavirus is affecting everyone and everything globally but be assured: Tenura is still up and running. This means that we are contactable via customer services and we are manufacturing and delivering living aids worldwide.
We currently are offering our customers a discount code on our entire daily living aids range. You can redeem 10% off your purchase at checkout with the code COV19. We hope these aids can be a benefit to you or your loved one's life.

We are following all guidelines the government has been issuing over the past months. Many of our staff are currently working remotely to keep them safe and well during this trying time.
The Tenura range of daily living aids are treated with silver nitrate - this means that Tenura daily living aids are antimicrobial (microbes are small organisms such as bacteria). The silicone living aids range, along with good personal hygiene, can help protect you from the spread of microorganisms. Personal hygiene is always important, but during this Coronavirus pandemic, it is paramount. So you must wash your hands with soap and water and keep to social distancing guidelines. This Coronavirus needs to be taken seriously, and as time passes, people are putting in measures to protect themselves and their loved ones.
Daily living aids can be a massive help in the home, especially now many are isolated and spending the vast majority of their day inside. You do not want to be struggling with menial tasks when there are bigger things to think about. Our daily living aids range can make a big difference in the quality of life of those persons who require additional aid.
Helpful living aids to improve your home during isolation: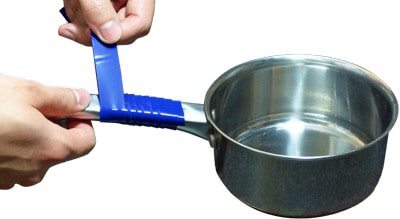 Anti-slip grip strips are perfect for use around the home. They instantly transform any surface into an anti-slip surface allowing the user to achieve a firm grip, or, apply the strips by wrapping them around the handle of any handheld items. A great example is on the handles of cooking equipment, such as pans.
Part of the Tenura range makes for great eating aids. Our antimicrobial table mats can help to stop the spread of disease, as well as keep plates and other crockery stable, leading to fewer breakages and spillages at mealtimes. Our bottle openers and jar openers can also be of help, making removing lids easy for all. Tenura cutlery grips are perfect for those who have impairments to strength of grip. The widened handles and comfortable silicone make them a great addition to any mealtime.
Our drinking aids include the Cup Holder and the CupCap. The Cup Holder provides a firm, stable base for any drink. The increased surface area keeps the drink stable, and all drips are caught in the base of the Cup Holder. The CupCap is a silicone cover that is easy to apply to the rim of any drink container such as a glass, mug or can. This stops debris, and other contaminants entering the drink but also prevents the liquid from escaping if knocked over.
We are offering you a unique discount code to redeem on our site to save 10% on the Tenura living aid range. They can be of great help to all, simply redeem the code COV19 at checkout.
It is, of course, very important that we see if there is anyone in our neighborhood or through local services we can be of help to. Those who are elderly or live on their own will be struggling through this in solitude. Please see if there is anyone you know you can help out. This may be as simple as picking up some shopping for them or participating in a local helpline for those who are vulnerable during this period. We all have to work together to get over this pandemic.
For those who distribute and resell the Tenura living aid range, you can take advantage of our dropshipping service. Dropshipping is a simple solution for companies that have a limited amount of storage. You can purchase our daily living aids products and have them stored at our warehouse. As an order is placed on your e-commerce site, send us the relevant details via email so we can ship the requested living aids out to the customer on your behalf.
For the next three weeks (27th March - 19th April), you can redeem the discount code COV19 to save 10% on Tenura daily living aids. All orders over £50 are eligible for free shipping (mainland UK only).