eating aid
What is Parkinson's?
Parkinson's is the most common type of Parkinsonism, which is an umbrella term for nervous system disorders. The nervous system is made up of cells and nerves around the body and is used for the transmission of signals. Signals tell muscles and the body to behave in a certain way. When damage or nerve cell loss occurs, the transmissions are disrupted, leading to slow and abnormal movements.
It is unknown what causes the loss of nerve cells. Parkinson's gradually develops and the first sign is often tremoring in the hands. Other symptoms follow and include slow movement, rigid muscles and impaired posture or balance.
What is Parkinson's Awareness Week?
Parkinson's Awareness Week will take place from the 5th to the 11th of April. It is not just about spreading awareness but educating people on the effect that Parkinson's can have as it is a daily struggle and affects people's quality of life. It affects one in every five-hundred people in the UK, which amounts to 145,000 people. Every hour in the UK, two people are diagnosed with Parkinson's. A big part of the awareness week is the charity and fundraising side as this aids finding a cure.
Parkinson's Aids and Discount Code

In addition to raising awareness, Tenura have released a discount code. The code (PAW20) can be used to redeem a 10% discount on selected daily living aids from the Tenura range that we believe can improve the quality of life for a person living with Parkinson's disease. We have chosen the following products.
Tenura Cutlery Grips
Tenura cutlery grips are a great kitchen aid. They allow a person with impairments to strength or grip, hold utensils with ease. The increased surface area of the handle enables a person with Parkinson's disease to grasp cutlery and live a more independent life. A larger handle means less movement and mobility is required. A sign of Parkinson's is that your writing style changes; it reduces in size due to it becoming uncomfortable to write and the reduction in mobility. Our cutlery grips offer comfort and aid in writing and eating.

Tenura Anti slip floor mat
Tenura Anti slip mats can be a great help to someone with Parkinson's tremors. The tremors can make movement difficult. Having an anti slip mat on the floor when standing can be of help as it provides a level of confidence as well as a surface that allows them to have a firm foothold when standing.

Tenura CupCaps
Having hands that tremor uncontrollably can lead to spillages when drinking. Applying a CupCap to any can, glass or mug helps to keep the contents contained. By design, they are easy to use and perfect for the job. CupCaps are antimicrobial, thus helping to reduce the spread of germs.
Tenura Cup Holder
A Tenura cup holder used in unison with a CupCap, gives a person with Parkinson's the best chance at avoiding spillages and breakages. The Tenura cup holder provides an increased surface area to the base of any drink, making it stable and catches any drips. Tenura cup holders are easy to use and dishwasher safe (withstanding temperatures up to 250°).
Tenura Jar Opener and Bottle Opener
Your mobility is affected by Parkinson's disease which makes simple tasks, difficult. It also affects your muscles, making them rigid (stiff). These symptoms can make opening twist-off lids fatiguing. Tenura silicone jar opener allows the user to twist off lids on large containers effortlessly. The Tenura silicone bottle openers work for smaller containers but also aid with turning taps, doorknobs and opening pill bottles, as they are versatile.
Parkinson's Symptoms
Parkinson's has the following symptoms (There are over 40 in total)
Tremor (In hands, feet or legs)
Slowed movement (Throughout the body and even affects facial expressions)
Rigid muscles (Stiffness that leads to a lack of mobility)
Impaired posture or balance (Affected by the latter symptom. Occurring in the late stages of Parkinson's)
Loss of automatic movements (Like blinking or smiling)
Speech changes (The muscles in the face are affected which can make speaking tricky)
Writing changes (The size of the writing decreases as the movement becomes increasingly uncomfortable)
If you believe yourself or a family member has Parkinson's disease, talk to them and seek advice from a doctor or the NHS website. Daily living aids can be of help to those close to you and aid them in achieving an independent lifestyle.
Parkinson's Awareness Week Discount Code

To claim the 10% discount, use the code PAW20 at checkout (The code will be valid all month). Enjoy our discounted living aids and have a great Parkinson's awareness week.
Follow the hashtags #UniteF­or­Par­kinsons and #WorldPar­kin­son­sDa­y2020 to stay up to date with the Parkinson's Week campaign and share your own stories with others.
The Coronavirus is affecting everyone and everything globally but be assured: Tenura is still up and running. This means that we are contactable via customer services and we are manufacturing and delivering living aids worldwide.
We currently are offering our customers a discount code on our entire daily living aids range. You can redeem 10% off your purchase at checkout with the code COV19. We hope these aids can be a benefit to you or your loved one's life.

We are following all guidelines the government has been issuing over the past months. Many of our staff are currently working remotely to keep them safe and well during this trying time.
The Tenura range of daily living aids are treated with silver nitrate - this means that Tenura daily living aids are antimicrobial (microbes are small organisms such as bacteria). The silicone living aids range, along with good personal hygiene, can help protect you from the spread of microorganisms. Personal hygiene is always important, but during this Coronavirus pandemic, it is paramount. So you must wash your hands with soap and water and keep to social distancing guidelines. This Coronavirus needs to be taken seriously, and as time passes, people are putting in measures to protect themselves and their loved ones.
Daily living aids can be a massive help in the home, especially now many are isolated and spending the vast majority of their day inside. You do not want to be struggling with menial tasks when there are bigger things to think about. Our daily living aids range can make a big difference in the quality of life of those persons who require additional aid.
Helpful living aids to improve your home during isolation: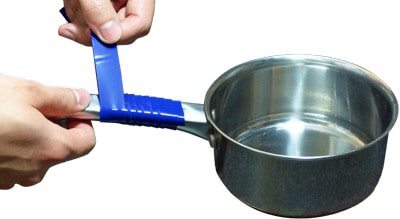 Anti-slip grip strips are perfect for use around the home. They instantly transform any surface into an anti-slip surface allowing the user to achieve a firm grip, or, apply the strips by wrapping them around the handle of any handheld items. A great example is on the handles of cooking equipment, such as pans.
Part of the Tenura range makes for great eating aids. Our antimicrobial table mats can help to stop the spread of disease, as well as keep plates and other crockery stable, leading to fewer breakages and spillages at mealtimes. Our bottle openers and jar openers can also be of help, making removing lids easy for all. Tenura cutlery grips are perfect for those who have impairments to strength of grip. The widened handles and comfortable silicone make them a great addition to any mealtime.
Our drinking aids include the Cup Holder and the CupCap. The Cup Holder provides a firm, stable base for any drink. The increased surface area keeps the drink stable, and all drips are caught in the base of the Cup Holder. The CupCap is a silicone cover that is easy to apply to the rim of any drink container such as a glass, mug or can. This stops debris, and other contaminants entering the drink but also prevents the liquid from escaping if knocked over.
We are offering you a unique discount code to redeem on our site to save 10% on the Tenura living aid range. They can be of great help to all, simply redeem the code COV19 at checkout.
It is, of course, very important that we see if there is anyone in our neighborhood or through local services we can be of help to. Those who are elderly or live on their own will be struggling through this in solitude. Please see if there is anyone you know you can help out. This may be as simple as picking up some shopping for them or participating in a local helpline for those who are vulnerable during this period. We all have to work together to get over this pandemic.
For those who distribute and resell the Tenura living aid range, you can take advantage of our dropshipping service. Dropshipping is a simple solution for companies that have a limited amount of storage. You can purchase our daily living aids products and have them stored at our warehouse. As an order is placed on your e-commerce site, send us the relevant details via email so we can ship the requested living aids out to the customer on your behalf.
For the next three weeks (27th March - 19th April), you can redeem the discount code COV19 to save 10% on Tenura daily living aids. All orders over £50 are eligible for free shipping (mainland UK only).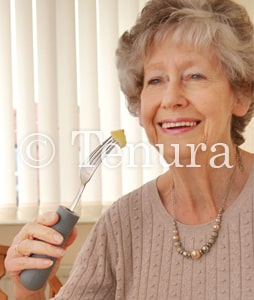 In daily life, preparing and eating food is a necessity. It should be as easy as possible and be a pleasant experience. Unfortunately for those suffering from diseases like Arthritis and Parkinson's, preparing a meal can be a painful and stressful process. Using any utensils like toothbrushes, pens, and many other items can be a struggle. Thankfully, Tenura has created cutlery grips to help in situations just like this!
Tenura cutlery grips create an enlarged surface area around small objects that are hard to use and hold. Cutlery grips have two slits in the middle of the material, allowing the objects to sit in without leaving space for movement, making using these utensils a more comfortable experience.
Tenura silicone has many benefits, including being non-toxic, antimicrobial, and easy to wash (dishwasher safe). In our blog, we are going to uncover advantageous ways you can put your Tenura cutlery grips to use.
Using Cutlery Grips for Dining and Food Preparation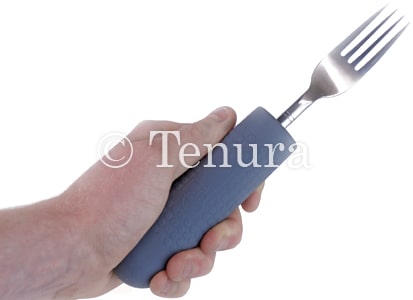 Food preparation can be hard for those who suffer from impairments to strength of grip, from pain to struggling to hold implements sufficiently. It can become a challenge very quickly instead of a day to day task. Tenura cutlery grips can increase the surface area of the object and make it easier to grip and hold. This makes preparing food easier, less painful, and safer. Cutlery grips can be washed with ease. An application of soap and hot water will be enough to guarantee a good level of hygiene and make them ready to use again and again!
After you have slaved away in the kitchen comes the best part of the process, the eating of the food. This process should be enjoyable after you have worked hard to prepare a meal. But for those with hand impairments or impairing diseases, the eating of the food can be very difficult. Items like knives and forks can be challenging to hold and use effectively. Tenura cutlery grips can make knives, forks, and spoons much easier to use and less painful.
Slip utensils into Tenura cutlery grips. The now increased handle size of your knife and fork helps to stabilise your hands, allowing you to stay in control of the movement. Cutlery grips are 100% silicone in structure, providing a comfortable, helpful eating aid.
Using Cutlery Grips with Pens & Pencils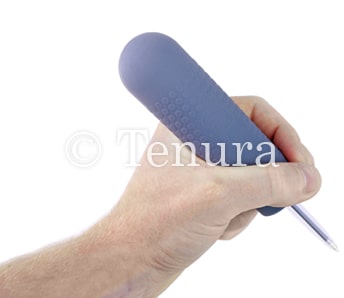 Writing is an essential skill that is needed almost all the time. From a very young age, most of us learn the skill of writing. Unfortunately, as you age, diseases and accidents can sometimes impair your ability to do this. Arthritis can make precise movements with your hand painful and hard to do. Thankfully, Tenura cutlery grips can provide a grip-enhanced surface area around pens and pencils, making them easier to hold. Cutlery grips relieve some of the pain involved when trying to hold the pen or pencil tightly enough to use effectively. Tenura cutlery grips help to make writing easier and more comfortable and maintaining an important skill.
Using Cutlery Grips with Tooth Brushes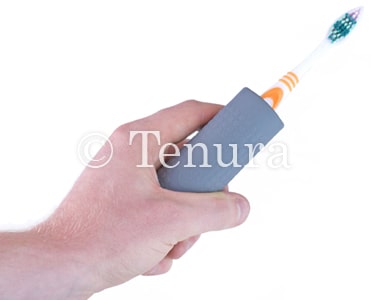 Brushing your teeth is a vital part of day-to-day life. Without clean teeth, tooth decay is inevitable, which can lead to painful toothache and expensive surgery to get it corrected. Unfortunately, brushing your teeth requires a certain level of precision and pressure. These two things can be tough for those who have arthritis and other impairments.
Effectively using and holding a toothbrush can also be a very difficult experience. Cutlery grips can be applied to any standard toothbrush with ease, allowing you to manoeuvre the toothbrush around your mouth and grip the brush easier. Cutlery grips decrease the chance of injury to gums and teeth that could happen without their support, which makes this important daily task much easier to accomplish.
Cutlery grips are a great eating aid. Cutlery grips allow tasks that need you to grip and use small items in much more comfort. For more information regarding Tenura cutlery grips, please visit the website.
Tenura cutlery grips are also available in an ergonomically designed version for children, aptly named Children's cutlery grips.