occupational therapists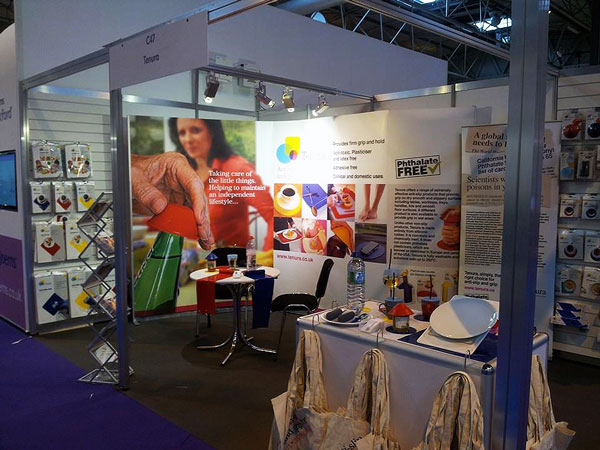 Another year, another success at the annual Naidex exhibition. We've had plenty of positive feedback to Tenura products; the diverse range we had on display at the exhibition wowed Occupational Therapists and left a lot of satisfied visitors. There's nothing more we love than hearing about the impact of our products and how they help people in their everyday life.
Occupational Therapists were pleased as they had such a brilliant alternative to Soft PVC products. Tenura is an antimicrobial product that is completely free of Phthalate's, making it completely non-toxic, safe to use in any environment. Tenura daily living aids can withstand washing in a domestic dishwasher, and are also completely safe to use in Autoclaves for clinical cleaning up to temperatures of 250oC.
Tenura daily living aids are made from 100% Silicone, the reason they can withstand these high temperatures and more importantly being free of toxins. One significant factor you should take into account when using Tenura is making sure the product is on a dry surface and also the product itself is dry. For example, when using a Tenura Cupcap make sure the cup is dry and also the Cupcap has no liquid or moisture on it before or during application.
Beings as we haven't made a blog post in an age, I thought I would delve deep into the recesses of my brain to bring you some updates regarding what has been going on behind the scenes.
As mentioned in our last blog post; Working with OT's for Innovation in Daily Living Aids, we have been working alongside various occupational therapists to get an outside perspective on current and future products to ensure that our target audience is getting a product that would efficiently assist them in day to day life, and, as we've discovered, more! More updates to this will be forthcoming in future blog posts (subscribe to the blog, here), but I can assure you, there have been some excellent discoveries through the use of Tenura daily living aids that you will be able to try in your own home or occupational therapy centre.
You all may have been wondering where our next line of Tenura daily living aids is. I can assure you that they are on their way. You can explore the current range on our website now. I must remain tight-lipped on the new range, as I am not the one who calls the shots on when they are announced (you must ask the organ grinders for that). When they are announced to the public, you will certainly hear about them, and not just from us either, there are a few outside-professionals already in the know, due to tests and feedback to help us develop them. We are very happy with them and should be an astounding evolution in daily living aids.
Is there anything you are hoping to see in the future of low-tech, daily living aids? Please connect with us through our social accounts; Facebook, Twitter and Instagram, we love to hear your thoughts. To stay up to date with Tenura daily living aid releases, subscribe to the blog.