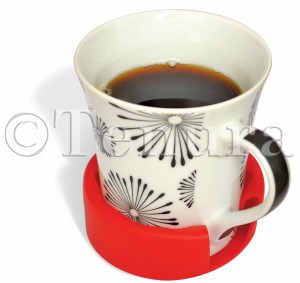 When at work or home, sometimes nothing hits the spot better than a piping hot cup of tea, coffee or even hot chocolate. A brew can be a nice start to a working day and can help wake you up in those first hours. Although any hot liquid mixed with drowsiness can be a dangerous combo, spills and drops are much more likely to happen and could cause serious damage to any electrical goods. Spills and drops can happen to anyone but can cause a lot of damage in the process.
Luckily Tenura has come up with a daily living aid to help prevent spills without the need for you to miss an important part of your day!
Tenura cup holders create an effective anti-slip surface that runs underneath and around the edges of the cup or mug, helping to create a solid non-slip bond with the cup and any flat surface the cup holder is placed. This strong non-slip grip of Tenura silicone cup holders helps to prevent unwanted movement and, in turn, stop spillages and drops. Tenura cup holders create a strong non-slip bond with any flat surface they are placed upon, helping to stop as much unwanted movement as possible and keep liquids in the cups and mugs!
Tenura cup holders are 100% silicone, which will also help to protect surfaces from the hot liquids on the bottom of cups, helping to prevent permanent ring marks. Cup holders can be used in the home, place of work, hospital, or health care environment. Tenura cup holders help to create a hygienic coaster due to silicone's anti-microbial properties (all Tenura silicone daily living aids are antimicrobial), helping protect you against a wide range of bacteria, which include, MRSA and E-coli.
Tenura anti-microbial cup holders are available in blue, red and yellow and can be used for a number of containers such as cups, mugs, beakers and glass tumblers.
For more information or advice on Tenura cup holders or any other daily living aid, feel free to contact us by phone. Alternatively, complete the contact us form and we will get back to you as soon as possible.