Our bath and shower stickers are perfect for slip prevention in the home, as they are cost effective and easy to apply and clean. This makes them a more than suitable alternative to bath mats, as we explain in detail in one of our previous blog posts; Anti Slip Bath Mats vs Anti Slip Bath Stickers: who's the Winner?
They are not just confined to use in these areas alone though, as they can be just as effective for marine applications also. water-faring craft such as boats, barges and yachts can also benefit from the slip prevention that Tenura anti slip bath and shower stickers provide.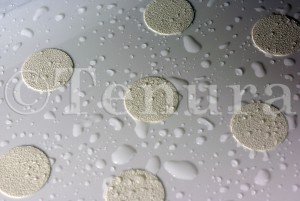 Marine safety is a vital aspect when travelling on the open sea, lakes or canals. Any boat on open water demands a safe area for people to work on or enjoy leisure time. Many slips and falls on boats are due to a slippery wet surface, these falls can lead to minor or quite serious injuries. One of the worst possible falls is if you fall off your boat, yacht or barge. This creates a massive object, which is moving around without any control. This can cause serious damage to your boat, the surroundings or yourself. So some form of slip prevention is always needed, many types of protection can be quite expensive, hard to apply, or very time consuming, such as abrasive paints which can take a long time to dry, especially in the British weather!
Tenura anti slip bath and shower stickers offer a strong non slip surface without the worry of heavy duty cleaning or constant reapplication of the material. These stickers, when applied to a clean and dry surface, will create a solid slip preventative. Thanks to their construction, Tenura anti slip bath and shower stickers will provide a strong anti-slip surface in dry and wet conditions, and should last a long period of time. Tenura bath and shower stickers are also very easy to clean, their strong non slip surface has no ridges or valleys in, so will not harbour dirt. These stickers can be applied to almost any surface, and will create an effective slip prevention method. Simply clean the floor with an alcohol based cleaner, and when dry, apply the stickers ensuring efficient anti slip coverage. ( view application guides for strips and discs )
Tenura bath and shower stickers are available in strips and circles, with two colour options, white or transparent. You can order Tenura anti slip bath and shower stickers right now from our website.