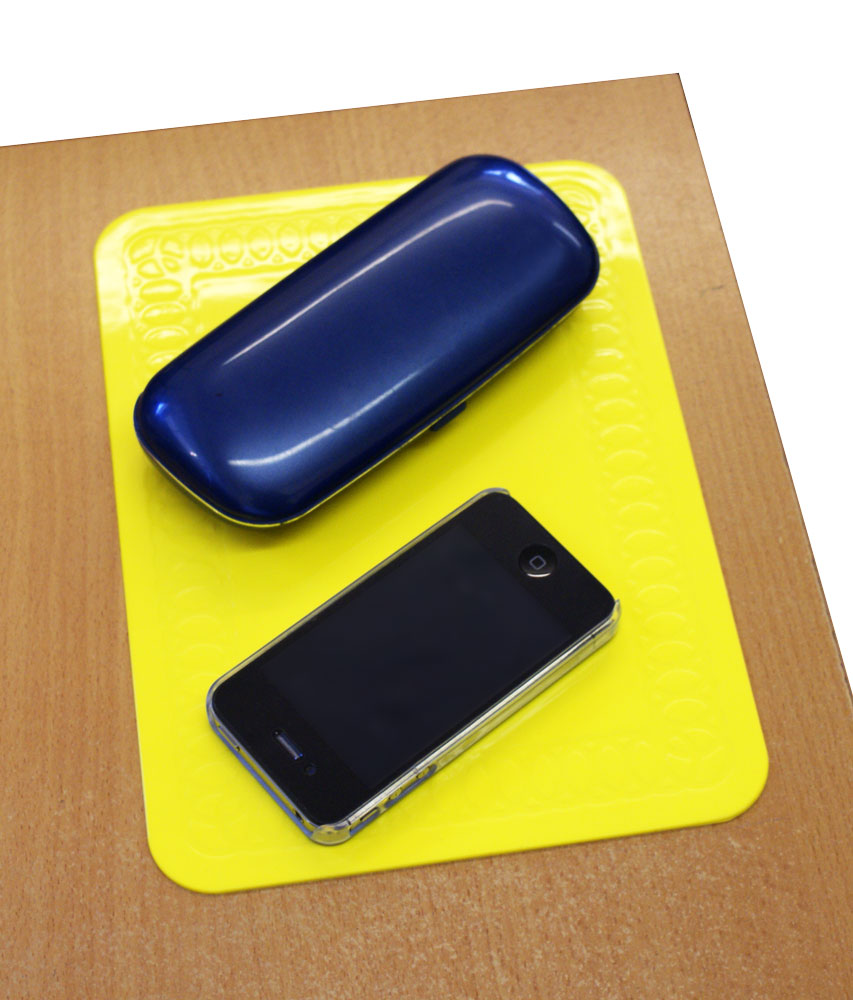 Tenura anti-slip rubber mats are superb as a non-slip surface. The three bright colours available are great for those who have sight impairments. The non-slip rubber mats can be an effective visual aid to place objects on, making them easier to find.
The main range of Tenura daily living aids is available in three vivid shades; bold blue, royal red and a sunny yellow, so they will stand out from most homes décor. The varying sizes of the mat allow you to cover a small area like a bedside table or a large area, such as a dining table. This will make daily tasks, such as locating all your essential everyday items, much easier.
Tenura anti-slip mats are 100% silicone. The anti-slip mats offer excellent non-slip qualities and are versatile, so they can be used on tables and worktops to provide purchase for objects placed on its surface. Tenura anti-slip mats are non-toxic, so they can be used in areas that require a high standard of hygiene like a kitchen or for use within the care sector. An additional feature that makes the anti-slip mats suitable is the antimicrobial properties that protect against mould, fungi and a wide range of bacteria.
In addition to these benefits, Tenura anti-slip mats are dishwasher safe (can withstand temperatures up to 250°C). They are also non-toxic, as they do not contain phthalate plasticisers which can be harmful to humans.
Use Tenura anti-slip table mats and coasters during meals. The non-slip properties help you to avoid spillages, breakages and injury. The colours can help highlight the objects or risks imposed by the object placed on the anti-slip mats, for instance, if you placed a hot cooking pot on a red table mat. It can be an indicator to others in the room that the pot is hot. We also have anti-slip children's mats available which are perfect for playtime and mealtime. Due to being made from silicone, they are also incredibly easy to wipe down.
Another popular use for Tenura non-slip table mats is to place them under a chopping board. This prevents unwanted movement of the chopping board whilst it is in use. If the chopping board moves, it could cause injury. There are three sizes of table mat available. Tenura also manufactures anti-slip floor mats. The anti-slip floor mats are a great daily living aid and are often placed where a person goes from a standing to a sitting position or vice versa. The Tenura non-slip floor mat offers purchase allowing the user to get a firm foothold when moving from either of these positions.
Connect with us on our social media channels (Facebook, Twitter and Instagram) to show us how you are putting Tenura anti-slip mats into use around your home, office or care home.