cup holders
With summer coming up we can't help but get out for the day and enjoy the sun! However while many of us are constantly on the go all year round for various reasons, some of us find seemingly simple tasks more challenging than others do. If these simple tasks become much more difficult than previous they can have a major detrimental impact on your fun or duties. With this blog post we are going to try and explain a few ways on how Tenura products can help make these everyday tasks easier.
The ranges of select Tenura products below are designed to make various simple tasks on the go feel like a breeze once again.
Tenura Cutlery Grips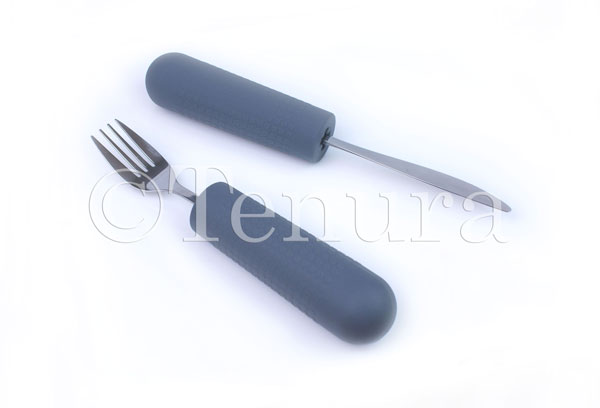 Tenura cutlery grips, like the majority of Tenura products are produced from silicone. The main benefits of silicone is how well it grips and the comfort experienced whilst holding it. These features mean that you can take them anywhere with you. For example, if you're going out for an expensive meal or just want to stop off somewhere for a spot of lunch they are perfect for popping on to your cutlery quickly and easily. If Tenura cutlery grips get dirty they can be easily washed with hot, soapy water or by popping them in the dishwasher and once dry they are then ready to use again. Cutlery grips are not exclusive for use with cutlery as you can also put them on pens and pencils, with a larger surface area to hold, it will become easier to write and draw, reducing if not eradicating discomfort.
Tenura cutlery grips are available in adult sizes and children sizes.
Non-Slip Fabric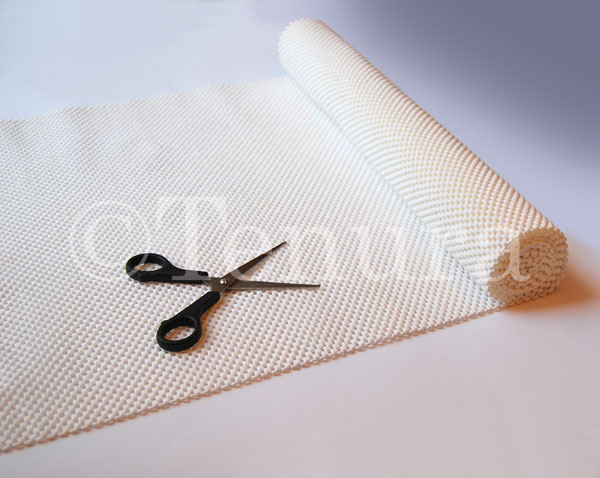 The Tenura Non-Slip Fabric is also beneficial when on the go. Made out of non-slip foam applied to a polyester mesh, this makes it a stable yet comfortable and cushioned non-slip material. This fabric is easy to cut making it easier to carry as you can then only take as much as you need. It has multiple purposes when on the go, it can be used as additional comfort when sitting on a bench whilst relaxing or having a picnic. Due to non-slip fabrics flexibility, it is easy to fold and carry in your bag. You could also find its benefits when having a picnic by using it on the table surface to place your food and drinks on for either a cleaner surface or to make everything less prone to slips. It is also suitable for resting your arms and elbows on to increase comfort.
Tenura non slip fabric is available in 3 colours.
Moulded Cup Holders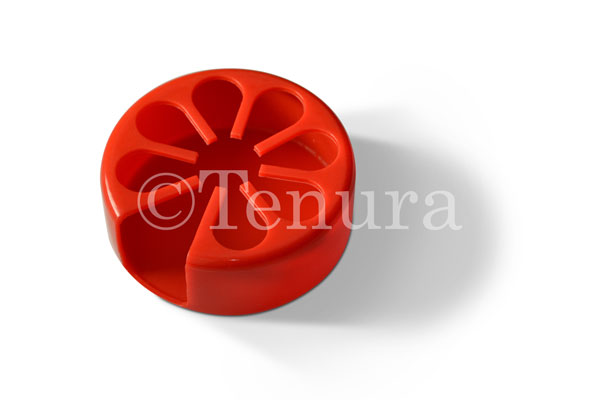 These cup holders are made from silicone and work exactly as a coaster would but are designed to hold onto the base of your cup and create a portable anti-slip surface. Tenura moulded cup holders fit onto the bottom of your cup indiscreetly and with minimal effort. This makes it easier to place cups down without marking any surfaces and will prevent accidents if the surface is overly slippery. Silicone also has a high tolerance to heat so these anti-slip cup holders prevent any spillages created by unwanted movement and preventing marks and stains on table surfaces that could be caused by hot mugs and cups. These will be very useful at the family picnic or at the office for those busy workers who are always on the go! Once placed down Tenura moulded cup holders will ensure your drink does not spill, but are also easy to remove and wash ready for next time!
Tenura moulded cup holders are available to buy from the website in 3 colours.
To purchase these products, visit the website or call us via phone. Alternatively use the contact us form and a member of the sales team will be in touch as soon as possible.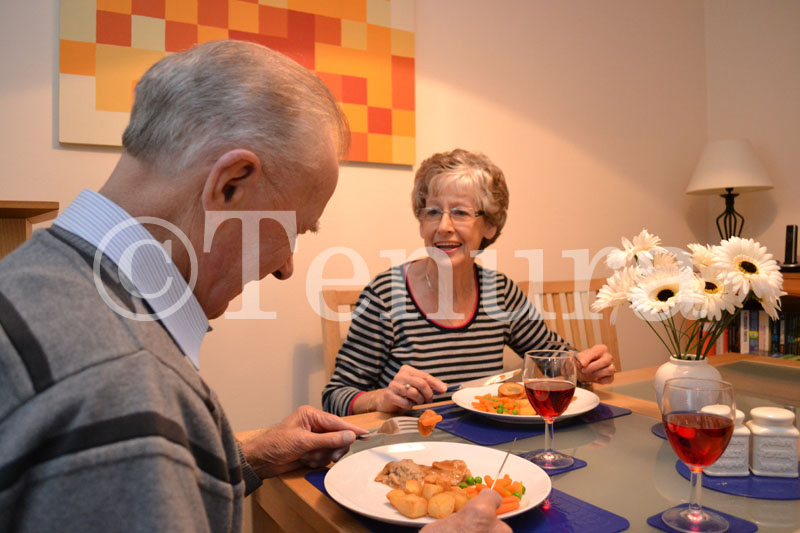 Everyday life is full of little challenges and tasks which the healthiest and able-bodied people find difficult or tiring. These tasks include Hoovering, cooking, hanging the washing out and many other tasks in day to day life.
All of these tasks are important in day to day life but can be tiring and difficult to fit into a busy lifestyle. These tasks become even harder when suffering from impairments or diseases such as Arthritis, which affect your grip and motor functions. Suddenly these tasks are near impossible without strain on muscles and joints, usually accompanied by lots of pain. This can pose a threat to your independent living and general lifestyle. Luckily, Tenura has a wide range of products which can be combined to help in all areas of the home.
In this blog post, we will be focusing on how different diseases and motor impairing injuries can affect a very important part of daily life. How to make mealtimes easier!
Whether it's breakfast, lunch, or dinner, mealtimes can be stressful and exhausting, especially with a young family. There can be spills, stains, arguments and tears. This is something we can all do without, especially when hot liquids or food can ruin clothes, burn skin or make a big mess which someone (usually you) will have to clean up. Tenura can provide high quality daily living aids designed to prevent spills and stains, make cutlery easier to hold, and keep plates and dishes steady.
Rectangular Mats
Tenura anti slip rectangular mats are ideal for placing on trays, tables and at the bottom of chairs or stools. Tenura rectangular anti slip mats create a strong non slip grip with any flat surface they are placed upon, and any object placed on its surface. This will help to keep plates, dishes, and bowls at the dinner table from sliding, helping to prevent potential spills and stains. These mats are constructed from an anti-microbial silicone, meaning no bacteria or germs can harbour or grow on this material. Tenura mats are also very easy to clean, a simple application of soap and warm water will be more than enough to clean off any dirt or grime that may build up after a prolonged usage. After this material has dried, it will regain all non-slip properties, allowing it to be used again and again.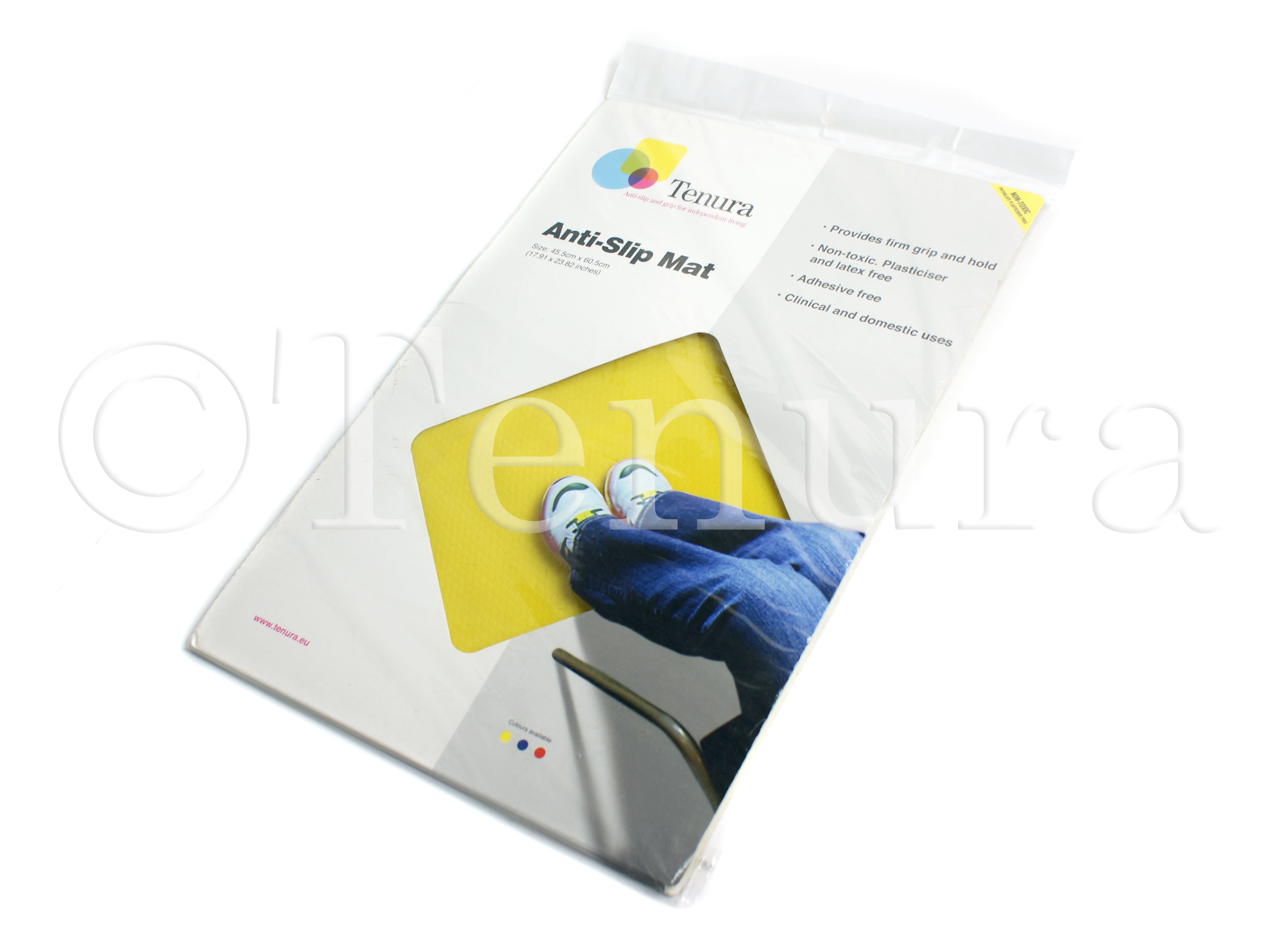 Tenura anti slip rectangular mats can also be found in a larger floor mat design. This mat has a textured non slip surface, designed to have shoes or boots resting on it. This mat can be placed at the bottom of beds, chairs, and even toilets. This will help to stop your feet from slipping, which could lead to a serious injury, especially for those who have trouble walking freely. This mat is also really useful for wheelchair users. This mat can be carried with you on the go with ease, then placed down in front of you on a flat surface. This mat will provide a strong surface for you to stand and sit, without the chance of your feet slipping and sliding from underneath you.
Tenura anti slip mats can be found in many different sizes and in different colours to suit your needs.
Coasters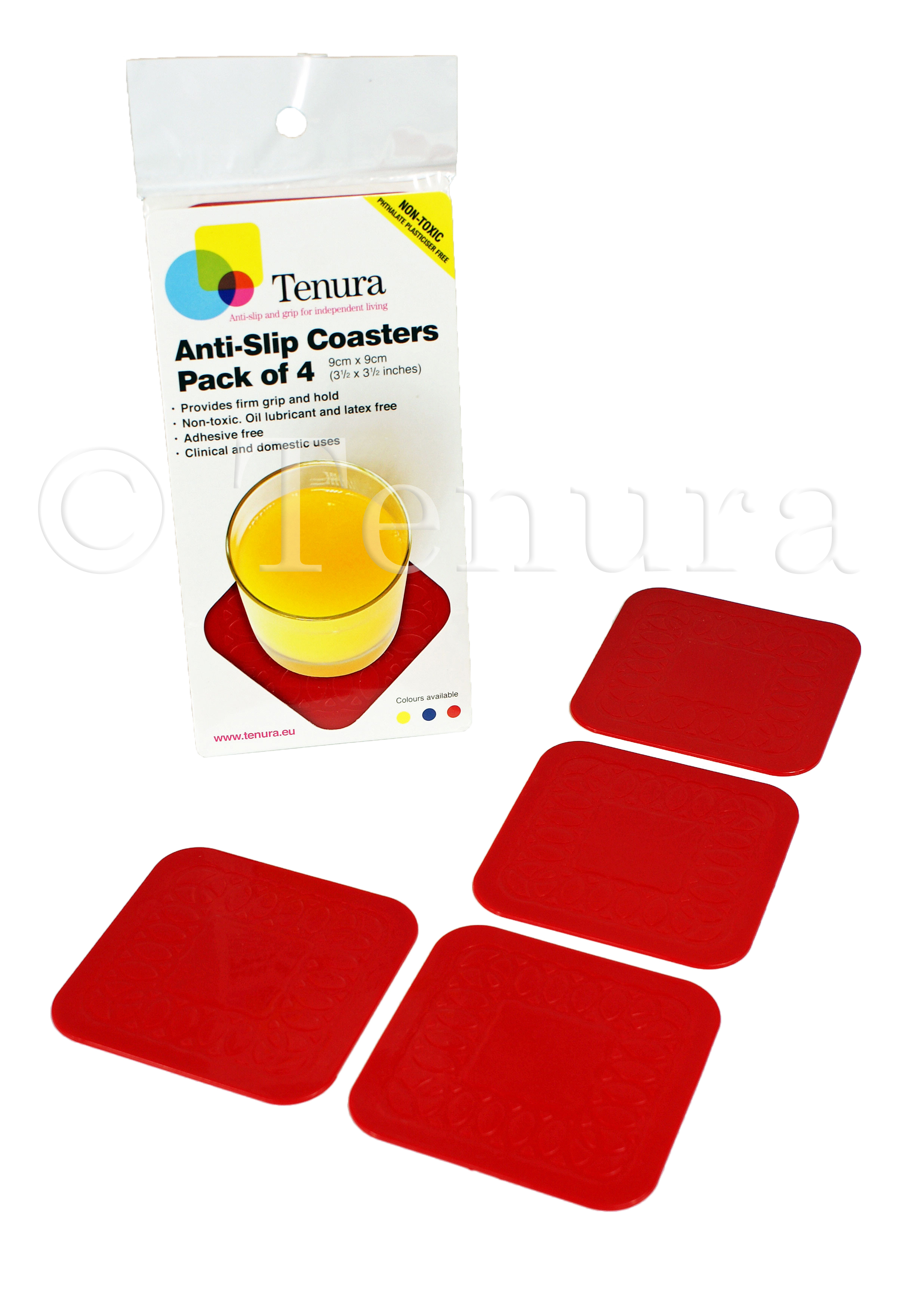 In day to day life, we all have clumsy moments which can lead to spills and stains which you have to clean up. We have all knocked a fresh cup of tea or coffee all over the floor. Tenura coasters are there to safeguard against this problem by creating a surface in-between the cup and table and stop the cup from moving. Unfortunately if you have a coaster on a particularly shiny and slippery table, this can move around and slide, potentially spilling the cup, mug or glasses contents all over your table, work surface or breakfast bar. This can not only create one big mess, but could lead to slips and falls which could lead to serious injury.
Thankfully Tenura has a wide range of silicone anti slip coasters, in many different sizes and shapes, designed to prevent objects from sliding around and accommodate all size of cups and mugs. Tenura square coasters are made from a silicone rubber, meaning they have excellent grip qualities. This will help to prevent objects from moving on the table and cups and mugs from potentially spilling over by creating a strong non slip surface with the table it is placed on and the cup which rests on its surface. This product comes in a pack of four and is ideal for use all around the home and even in the workplace.
Tenura can also offer Anti-microbial cup holders. This product is designed to be attached to the bottom of cups and mugs, allowing you to create a portable non slip surface. This allows the cup or mug to be moved anywhere around the house without needing a coaster or cover to prevent damage or spillage on surfaces. Tenura cup holders can be applied and removed from cups with ease without leaving a residue. This product can be washed and used again and again once dry.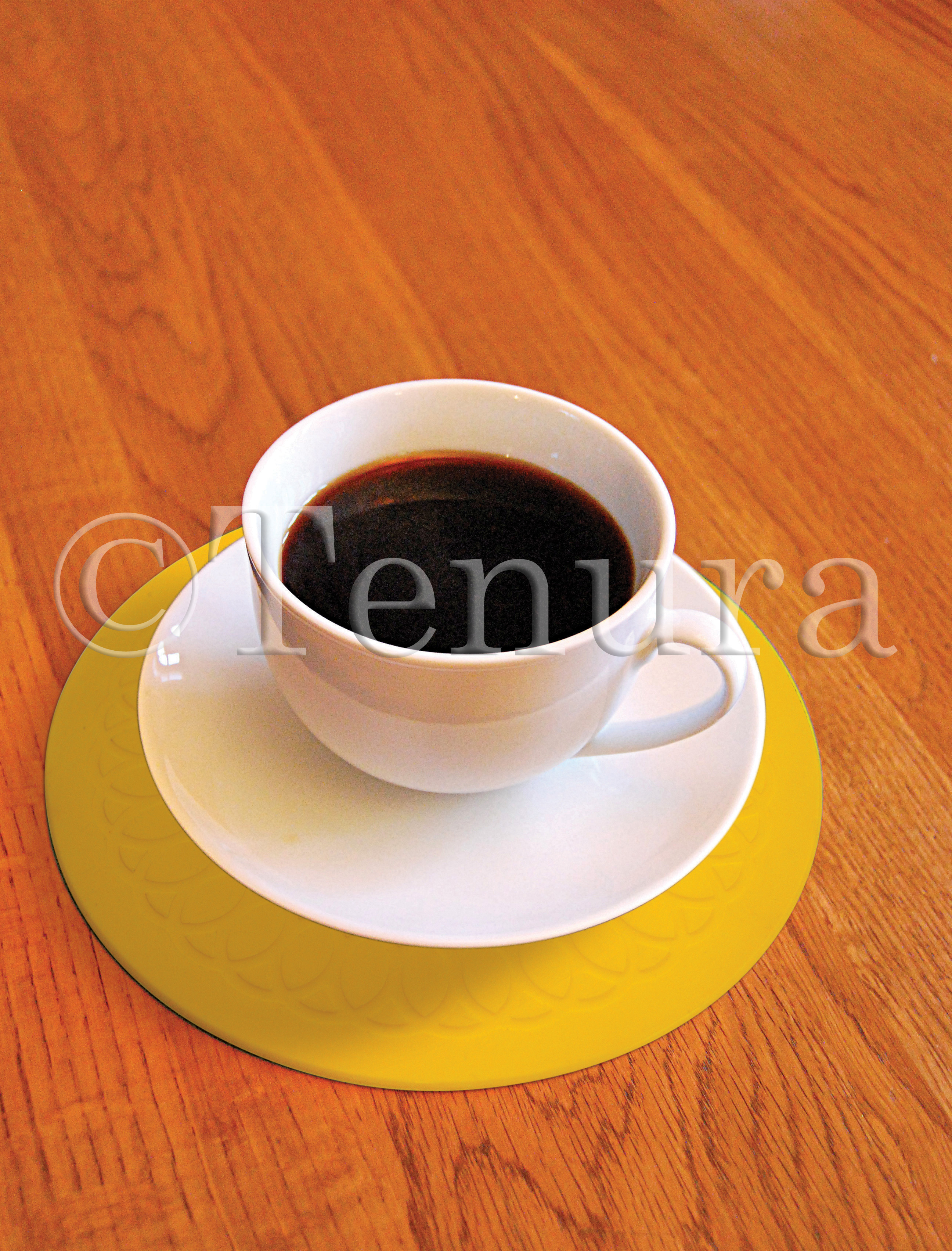 Tenura coasters are a great help in day to day life by providing a strong non-slip surface to rest all manner of containers and cups/mugs on, preventing them from slipping and sliding which could cause spills and stains. Tenura anti slip circular coasters are one such product. Tenura circular coasters create a strong non-slip grip over a large area of any flat surface. This coaster can be found in two sizes, 14cm & 19cm, making it perfect for cups and mugs or bigger items like bowls, plates, food containers and many other items. This materials non-slip grip will help to stop spills and stains which could occur due to unwanted movement from the container. By creating a strong non-slip surface, this massively decreases the chance of spills, making day to day life easier and eating/drinking safer. Like all of our coasters, Tenura circular coasters will not harbor bacteria or grime. This is thanks to its Anti-microbial construction. Tenura coasters can also be washed with ease and will regain all non slip properties again once dry.
Cutlery Grips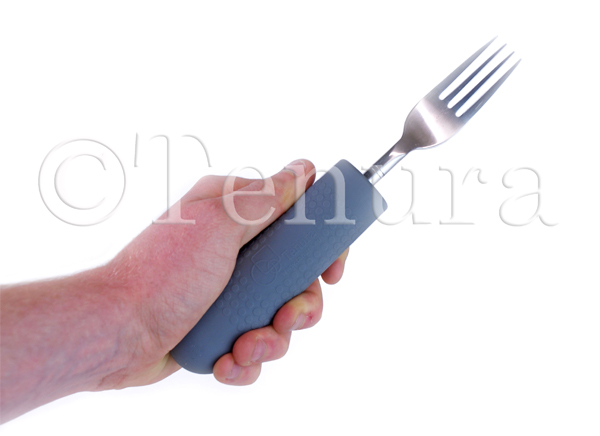 Arthritis, hand impairments and diseases which affect motor function can make meal times a hassle, especially when it comes to handling utensils such as knives, forks, and spoons. With arthritis affecting a persons ability to grip items effectively, as well as causing discomfort and pain, this makes the idea of meal times a daunting experience. Tenura cutlery grips are designed to make this sort of task and many others a lot easier.
Tenura cutlery grips are a large non slip handle, designed to allow knives, forks, and spoons to be slipped in with ease, instantly increasing the size and enhancing the surface area for the user to grip and make the cutlery easier to hold. This can make meal times a much more pleasant experience, and help to reduce pain and discomfort for those who suffer from hand and grip impairments. Cutlery grips can be easily washed and are anti-microbial, meaning no bacteria or dirt will harbour on its surface. Tenura cutlery grips come in a pack of 2, allowing you to create an enhanced grip on knives, forks or spoons at the same time, without the need for constant switching of utensils.
Cupcaps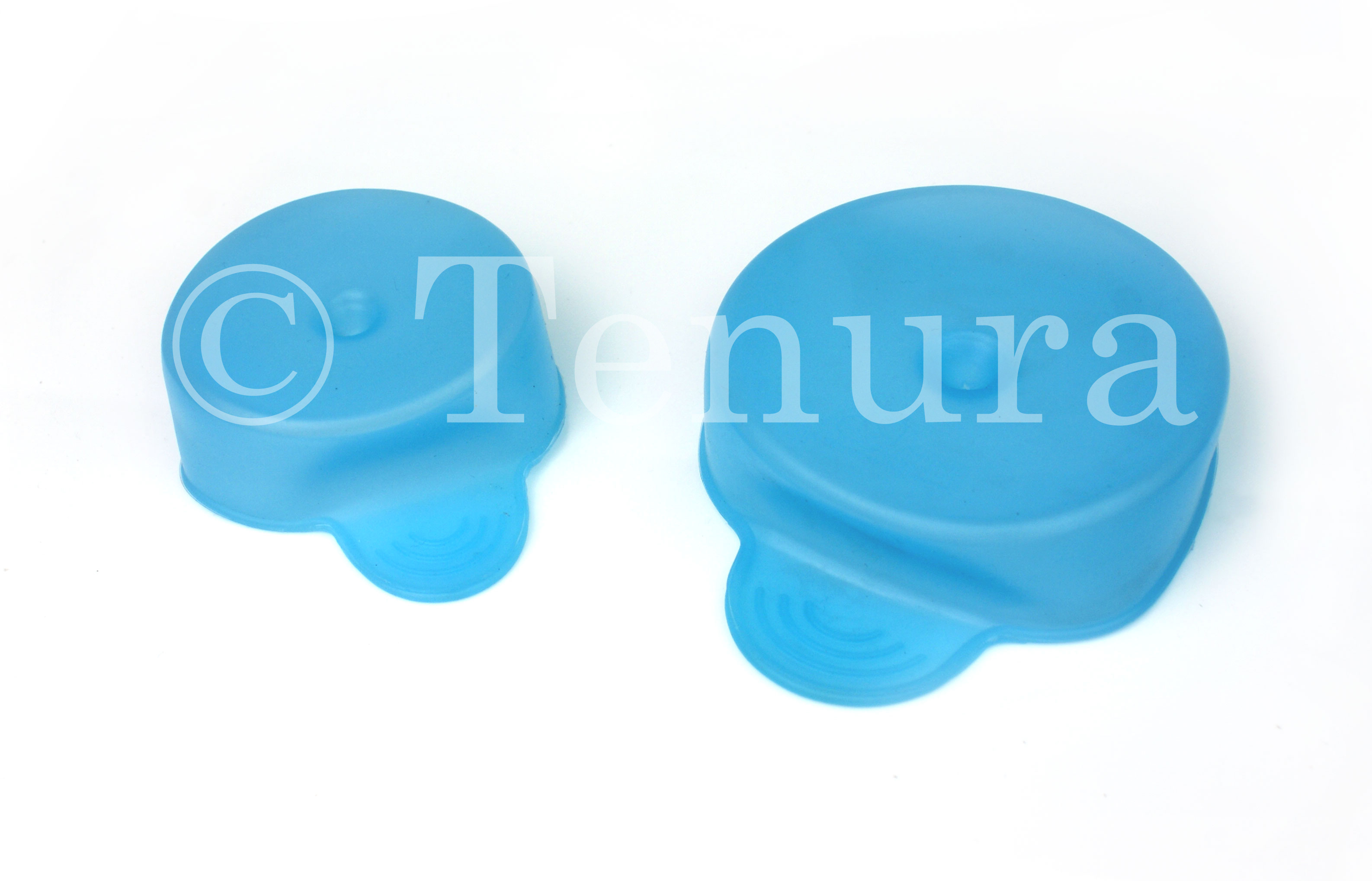 Tenura Cupcaps create a seal over cups, mugs and cans, preventing spills and stains, and keep drinks fresher for longer. This anti-microbial silicone material can be stretched over the top of cups and mugs with ease, leaving a straw hole in the middle to allow liquid out of the container. Cupcaps are perfect for hot and cold liquids, and can be washed with ease. This product is ideal for those who suffer from grip impairments or diseases like Parkinson's, were uncontrollable shaking or movement may cause spills. By creating a seal over the top of the material, this virtually eradicates spills, and to drink, simply place a straw into the middle valve inside the Cupcap. This allows you a lot more freedom as to where you can go with a beverage and when you can drink it. A good example of this would be when in a moving car or getting from one part of the house to the other!
Tenura Cupcaps come in a pack of two one larger 80mm Cupcap and a smaller 60mm one. This allows you to cover and protect yourself and your surroundings from multiple drinks spilling. This could potentially cause damage, nasty stains or a slippery mess which could lead to a fall. Tenura Cupcaps have strong non slip qualities when dry, and can be used multiple times over on cups, mugs and cans.
By combining Tenura's wide range of daily living aids, you can re-claim dinner times and make all the tasks involved from preparation to simply taking a drink much easier.
Tenura's wide range of daily living aids will help to make mealtimes easier, making them a pleasure rather than a chore.
For more information on the wide range of products Tenura offers, or the many uses our products have, please contact us via the contact us page or visit the Tenura product page to view the complete range.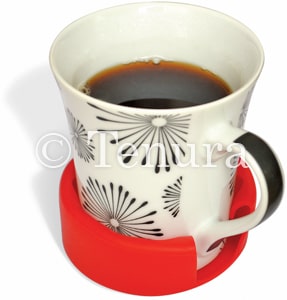 Spillages are a common nuisance in day-to-day life, creating a mess that can take time and effort to clean up. Spills can also lead to slips and falls, which can cause serious injury. Diseases like Parkinson's and Arthritis make people very prone to spills and messes due to the effect the disease has on their movement. Luckily, Tenura has created another daily living aid. It has a strong non-slip surface and works well when placed under your cup or mug. It's a Tenura Cup Holder!
Tenura silicone antimicrobial moulded cup holder works just like a regular drinks coaster but it's fitted to the bottom of a cup or mug. This allows you to take an anti-slip grip drinks holder wherever you need it, helping to prevent nasty spills and stains in day-to-day life. Hot liquids can create very unpleasant spills and messes, especially if spilt on yourself or others. Tenura cup holders can provide a firm non-slip surface to help prevent this from happening. The silicone drinks holder will also catch any small spills, preventing stains on clothing, fabrics, or tables and chairs.
Tenura cup holders can be applied to the base of many cups or mugs with ease, take your cup or mug and slip it into the seat inside the cup holder. Your Tenura silicone drinks holder will then form a non-slip grip underneath and around the cup, preventing it from moving. Silicone cup holders will also form a strong grip with any flat surface it is placed upon, preventing unwanted movement, which could lead to the cup being knocked over.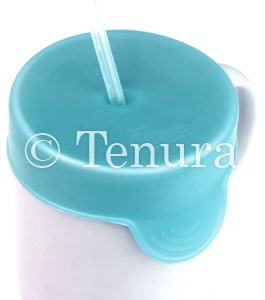 Tenura cup holders have antimicrobial properties, another brilliant benefit! No bacteria or dirt can grow or harbor on Tenura silicone. A combination of hot water and soap is more than enough to keep a silicone cup holder clean and hygienic, ready for its next use. Tenura cup holders are also made from 100% non-toxic silicone, meaning no harmful chemicals like phthalates are present in Tenura cup holders, keeping you and your family safe from the damage these chemicals can cause.
Tenura CupCaps are a great product to combine with Tenura cup holders to help prevent spills and stains when lifting and drinking from cups, cans, and mugs! CupCaps create a strong seal over the top of most cups, mugs and glasses, preventing the liquid from spilling while allowing you to drink through a straw that can be placed through a small eyelet in the middle of the CupCap. This can be done by simply stretching the silicone CupCap over the top of a cup, mug or can. Your silicone CupCap will then form a strong grip with the sides of the container and stop liquid from spilling out.
Tenura cup holders can be found in red, blue, and yellow.
CupCaps can be found a pack of 2 (1 x 80mm CupCap & 1 x 60mm CupCap) both in a translucent blue.
By combining Tenura cup holders with CupCaps, you can minimise the chances of spills and stains while still being able to enjoy hot or cold drinks in the house or on the go!
Tenura cup holders & CupCaps can be found on our website.